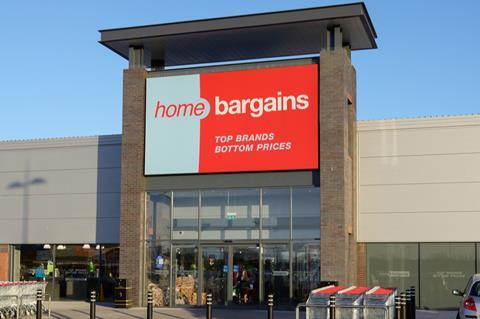 Estate expansion helped Home Bargains boost turnover by 13% to £2.8bn in the year to 30 June 2020, newly filed accounts at Companies House reveal.
Operating profit also rose 13%, to £261m.
The accounts put turnover growth down to new stores as well as relocations and improving sales at existing branches. The business had 525 retail outlets at the end of the period, up from 506 12 months earlier.
"Further additions to retail outlets are planned during the year to 30 June 2021, which should lead to further growth in turnover and profitability," said the accounts, reiterating the long-term goal of 800-1,000 stores "eventually".
GlobalData analyst Jonathan Rock said: "Home Bargains' strong results bodes well for its performance in the pandemic, as this period included the devastating initial lockdown period.
"Its online platform grants it a significant advantage over rival B&M, and may have helped it achieve similar levels of runaway success that B&M has enjoyed throughout the pandemic.
"Its plans to expand its store estate from 525 to up to 1,000 further supports strong Covid-related sales."
Home Bargains has been pressing on with its store opening programme during the latest lockdown. The most recent to open, in Twickenham on Saturday, features a "new format" with "different ranges and narrower aisle widths to try and maximise every inch of space", said senior store development manager Paul Cooney on LinkedIn.
The year to 30 June saw the company hit with exceptional costs relating to Covid-19 of £14.4m, according to the accounts.
Gross profit was £886m, up from £778m, while profit before tax was £263m, up from £233m the previous year.
The business employed an average 25,300 during the period, 2,500 more than the previous year, with about 2,000 of the new jobs in retail and the rest in warehouse and office roles.
Unlike B&M and a string of major supermarkets, Home Bargains has made no announcement of an intention to hand back the business rates holiday for the year to 31 March 2021, estimated by Altus Group to be worth £36m to the variety discounter.
The accounts also make no mention of the business rates holiday, though its performance suggested the business "could afford to pay", said Rock.
The company, whose majority shareholder is founder Tom Morris, paid £15.8m in dividends for the period.