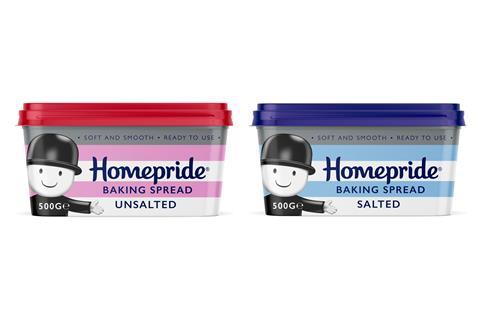 Baking and cooking sauces brand Homepride has moved into the butters and spreads category for the first time with the launch of a new Baking Spread range.
Describing the move as a "natural expansion" of its product range, the Premier Foods-owned marque said the launch formed part of its ambition to become the number one brand in the baking category.
Homepride added that the move had been timed to coincide with the key Easter baking period and hoped to capitalise on the explosion in home baking seen over the past year. An extra 1.9 million (19%) shoppers bought into the cooking and bakery category over the past 12 months [Kantar 52 w/e 21 February 2021].
Manufactured under licence by Kerry Foods, which already makes Homepride's flour ranges, the NPD will be made from rapeseed, sunflower and palm oils and will contain buttermilk.
It will come in two variants – salted and unsalted (rsp: £1.40/500g) – both of which are set to roll into Morrisons stores across the UK from Monday (15 March).
"Our aim is to continue inspiring bakers of all levels and demonstrate how simple ingredients such as baking spreads and flour are everything families need to make delicious treats," said Elodie Bretz, marketing manager at Homepride Flour.
"We know consumers are baking more from home, so this premium product will help give them a quality bake and save time as our baking spreads are soft and smooth [and therefore] ready to use. We're confident that the power of the Homepride brand will ensure these products fly off the shelves ahead of Easter and beyond."
In line with the growth of the wider baking category since the first Covid-19 lockdown, baking spreads have added £21m (29.4%) in value sales against the previous year, meaning the category is now worth £91m [Kantar 52 w/e 21 February 2021].
This meant the segment outpaced the wider butters and spreads category, which grew £128.1m (10.4%) in value to £1,362m, according to The Grocer's 2020 Top Products survey.
Meanwhile, Homepride's flour has also experienced a continued uplift, growing £4.6m in value (62%) to £12m and adding 45% in volume [Kantar 52 w/e 24 January 2021].