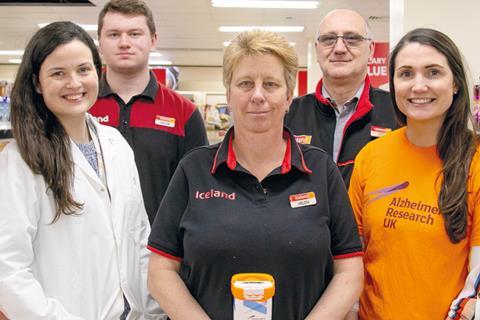 Iceland has hit the milestone of raising £5m for Alzheimer's Research UK over 10 years through the business' charitable foundation.
The Iceland Foods Charitable Foundation has helped the charity with a series of fundraising events involving staff, customers and suppliers. Iceland founder and chairman Malcolm Walker and his son Richard, the business' MD, also climbed Mount Everest's 23,000 ft North Col on a fundraising expedition in 2011.
Most recently, the foundation doubled the sum raised by 70-year-old Frank Rothwell's 3,000-mile solo row across the Atlantic, bringing the total to £1m.
Alzheimer's Research UK said the £5m raised over a decade had helped it make much-needed progress in the search for a life-changing treatment.
Malcolm Walker's wife of over 50 years and Richard's mother, Rhianydd, died in January this year, more than a decade after being diagnosed with early-onset Alzheimer's.
"It's a horrible disease, prevalent, yet still under-funded," Richard Walker wrote on Twitter the day after her death.
The Iceland Foods Charitable Foundation has focused on dementia charities since 2010, raising £17m in total through its 'Dementia: let's beat it' campaign.
Iceland is to mark its latest fundraising milestone by supporting the charity's annual research conference this week, from 23 to 26 March.
"I'm enormously proud of everyone at Iceland Foods – our colleagues, customers and suppliers – who have helped raise such a life-changing amount of money for Alzheimer's Research UK," said Malcolm Walker.
"Many of us have been touched by dementia in some way and are all too aware of the horrendous heartbreak the condition causes. The amount we've raised as an organisation shows how determined we are to help find a cure, so we can save other families from the devastation of dementia.
"It's been a privilege to work with Alzheimer's Research UK over this time, and we look forward to continuing our support for the cause, so we can make those desperately needed breakthroughs sooner."
Alzheimer's Research UK CEO Hilary Evans said: "Thanks to the passionate and dedicated support from Iceland Foods Charitable Foundation, we are closer than ever to bringing about life-changing treatments for dementia.
"Words simply cannot describe how grateful we are to all those who have got involved in our partnership over the past decade, as their support will transform lives.
"People with dementia have been forced to wait too long for new treatments, but with the support of Iceland Foods Charitable Foundation, we are closer to being able to end that wait. We've loved every moment of our partnership and we're excited to see where it takes us next."