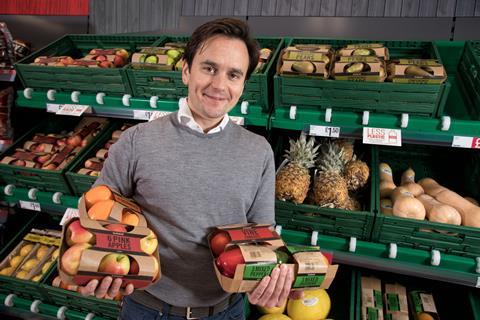 Iceland is finding it "increasingly challenging" to hit its plastic reduction target after a surge in use of the material, the chain's MD has said.
Writing a blog to coincide with the G7 summit in Cornwall at the weekend, Walker said the pandemic had increased demand for packaged goods, and called on the government to give more help to businesses trying to tackle the problem.
Iceland committed at the beginning of 2018 to get rid of plastic Packaging across all own-label products by the end of 2023.
"Our own government needs to do more financially, operationally and legislatively to support businesses, such as Iceland, which are committed to removing plastic," Walker said in his blog.
"It is an uphill battle. We have made good progress towards our goal of being plastic-free in our own-label range by the end of 2023, though meeting our target looks increasingly challenging simply because of the huge increase in overall plastic consumption.
"However, we certainly won't let that stop us trying."
Walker called plastic waste "a problem that has been made worse by Covid-19".
"This has not only increased the demand for packaged goods in stores, but created mountains of discarded PPE," he said.
Walker also used his blog to call on G7 leaders to do more to protect the oceans. "In particular, we want the G7 to commit to stop damaging the ocean by banning the destructive extraction of resources through deep-sea mining; to unite to regulate ocean pollution; to expand effective ocean protection and management, prevent overfishing, work to restore biodiversity and combat climate change; and to catalyse and co-ordinate global action on the critical interlinked issues of the ocean, carbon and climate," he said.
Recent steps in Iceland's journey to cutting out plastic have included introducing new cardboard packaging on Pink Lady apples.
Iceland has been experimenting with packaging fruit & veg in alternatives to plastic since the start of 2020, after scrapping a loose produce trial because sales suffered.