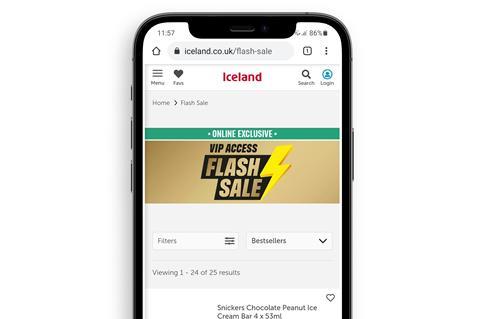 Iceland is holding 'online flash sales', having massively ramped up its delivery capacity by taking on thousands of drivers and pickers in the pandemic.
The flash sales are being pushed on social media with links to a recently created dedicated page on Iceland's website, with online exclusive discounts of up to 50% for one day only.
"Breaking news: we've another online flash sale for you!" Iceland posted on Facebook this week. "For today only, there's money off all these when you shop online."
The offers included Iceland Chicken Breast Joint at £3 instead of £6 and 100% Fish Fillet Strips Tandoori at £2 instead of £3.
A similar flash sale on 26 February included Goodfella's Takaway Pizza at £1.75 instead of £3.50.
An Iceland spokesman said the flash sales were "just one of the ways in which we have been delivering great value for shoppers".
Iceland launched a recruitment drive in January for 1,000 extra drivers and 2,500 store staff, the latter principally to act as online pickers. The frozen specialist had already taken on 3,000 additional drivers and store staff during the pandemic, helping boost online capacity by a claimed 300% by September, to about 45,000 deliveries a day.
It also boosted its delivery fleet with 250 new vans in the run-up to Christmas, each with double the crate capacity of its existing ones.
The business has been one of the fastest-growing grocers in the pandemic, something it credits partly to its online expansion along with new stores and customers through The Food Warehouse.
NielsenIQ figures this week put Iceland's year-on-year sales growth in the 12 weeks to 27 February at 17.5%, behind only Lidl, which managed 21.2%.