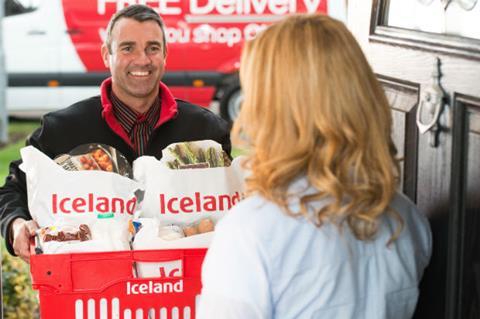 Iceland is planning a nationwide rollout of same-day scheduled delivery, after quietly trialling the service from its customer fulfilment centres.
Having tested and refined the offer, the frozen food retailer is now set to offer same-day slots from 400 stores within the next few weeks, and the majority of its estate this year, The Grocer can reveal.
Picking from stores across the country provides Iceland with the bulk of its online capacity, which it has dramatically increased during the pandemic, by at least 300%, to 40,000-50,000 orders a day. In contrast, it has only a small number of CFCs, or 'dark stores', including one in Hyde, Greater Manchester.
The rollout of faster scheduled delivery to the majority of Iceland's roughly 1,000 stores will see millions more of its customers able to book a same-day slot on its website.
Iceland is also the only remaining major supermarket to offer free delivery on large-basket online orders nationwide, after Waitrose recently introduced a charge in some areas.
"We're finding that our CFCs offer more flexibility when trialling new services to customers, such as same-day delivery," said Iceland chief customer & digital officer David Devany. "This allows us to optimise the operations and customer proposition before rolling it out into our main store estate."
Devany added: "We're in the midst of a trial that is starting to be rolled out on a more national scale, being introduced in the next few weeks to almost 400 stores.
"We're confident that we now have a good formula that works for our customers, and their feedback so far has been great. Throughout this year we'll be rolling this out to the majority of our stores and we'll continue to make the proposition even better. We're really excited about it."
Devany told The Grocer the news as he set out why Iceland feels it is still important to offer free delivery, and plans to continue doing so, despite the rest of the market introducing charges. In the past 12 months, Tesco has introduced a flat £4.50 delivery charge, Asda has raised its delivery charge ceiling from £6 to £7, and others have also increased existing charges. Meanwhile, Iceland retains its offer of free delivery on baskets over £35.
"Our customers are very price-sensitive, and making their weekly grocery budget go further is really important to them, so not having to spend money on delivery can equate to an extra meal for the family," said Devany. "£4.50 at Iceland goes a long way. And £7? That's the family fed and more.
"We know that free delivery is a real draw for our customers because of this. Other grocery retailers have a different set of challenges but we continue to shape our offering around our customers and their needs."
Earlier this week, The Grocer revealed Iceland had also rolled out its Uber Eats on-demand grocery delivery trial to reach a total of 20 stores, including locations outside London for the first time.