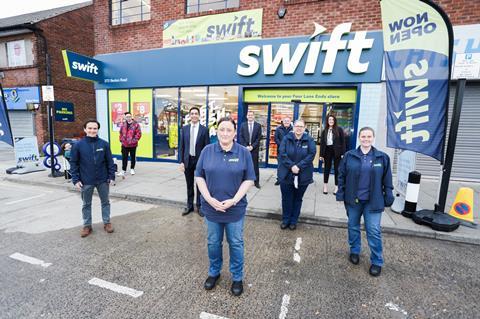 Iceland has been slammed by a major supermarket rival for running a string of newspaper voucher promotions – while arguing it cannot afford to repay business rates relief.
As Iceland this week launched new convenience format store Swift, the rival gave The Grocer a list of over 15 front-page national newspaper voucher promotions by the business since the start of February.
The vouchers, in the Star, Express, Mirror and Sun, have offered online shoppers up to £10 off a £50 basket or £5 off £30.
"This is Iceland giving between 17% and 20% of every voucher transaction back to a shopper," argued the rival. "Given grocery margins are low single-digit, how is this being funded given Iceland has been loss making? By the taxpayer?"
The retailer taking aim at Iceland is one of several supermarkets to have paid back business rates relief for 2020-21 and confirmed it will not claim for 2021-22.
Iceland MD Richard Walker recently defended his business's decision not to repay the relief, saying it could not afford to and the money had helped keep the company afloat and staff in jobs. "In the face of this year's truly exceptional challenges, we made all our plans and budgets on the assumption that we would retain the rates relief we had been given," Walker wrote in The Times.
Speaking to The Grocer after the article appeared in February, Walker said: "That's the key point – if we'd been told it was a loan then we would have acted differently.
"I don't make any apology for using public money to safeguard jobs."
Iceland's relief for 2020-21 is estimated by real estate advisor Altus Group to be worth £45m.
"Like many supermarkets, we use money-off vouchers to incentivise new customers to try our online offering," said an Iceland spokeswoman.
"These voucher promotions represent one of the ways we invest in marketing activity and have always been part of our customer acquisition strategy, with no recent changes in our approach."
An expansion of online capacity has been a focus for Iceland during the pandemic. Walker said in his Times article the business had achieved a "10-fold increase in our online capacity since the start of the pandemic."
Iceland's sales have grown faster than nearly any other supermarket. NielsenIQ figures last week put its growth at 17.5% in the 12 weeks to 27 February, behind only Lidl, which managed 21.2%.
Iceland also recently launched 'online flash sales' offering one-day only discounts of up 50% on selected products via a new page on its website.
Last June, Iceland founder and executive chairman Sir Malcolm Walker and CEO Tarsem Dhaliwal took full ownership of the business in a buyout from South African investment firm Brait, a deal Richard Walker has said was agreed before the pandemic.
"We took on more debt to buy it back, we didn't personally enrich ourselves," Walker told The Grocer in February. "It was the opposite."
Full-year results showed Iceland losses grew by a third to over £70m in the 12 months to 27 March 2020 and Walker predicted it would make "a loss at the pre-tax level" this year too, despite the business rates relief.
Swift, the new format that opened in Newcastle's Longbenton yesterday, is a convenience proposition with about 3,000 lines – twice as many as the Iceland branch it replaced – spanning fresh, food-to-go, alcohol and tobacco, as well as frozen and chilled. Unlike many Iceland stores, it has self-checkouts.