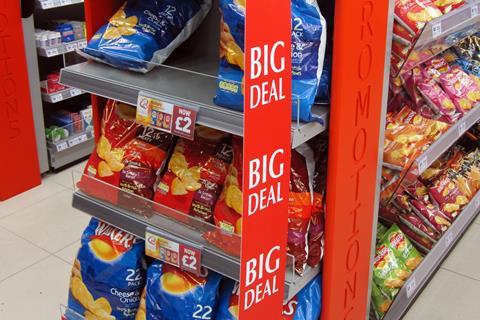 Food and drink leaders have called on the government to delay plans for a crackdown on 'junk food' promotions, warning the disruption from the pandemic makes hitting the time frame for introduction in stores "inconceivable".
The Grocer has learnt both the FDF and BRC have questioned the timing of the changes, which would see HFSS promotions banned in prominent store locations and an end to all volume-based deals on such products, such as buy one get one free.
In its submission to the government's consultation, the FDF said it was "not feasible or realistic" that the required change to aisles, store fronts and checkouts could be carried out by the suggested start date of April 2022, with the legislation underpinning the ban not expected to be laid in parliament until this summer at the earliest.
"Many food retailers are operating with limited staff and have already had to reconfigure their space to allow for social distancing," said FDF diet and health policy manager Amy Glass.
"There is a significant amount of layout planning needed by stores, especially in relation to food to go and seasonal peaks in trade.
"There will also need to be significant controls inserted into the search algorithms on retailer websites. To ensure consistent implementation, it is imperative businesses are given appropriate time to transition to these substantive changes and that current pressures due to Covid-19 are recognised."
The FDF said the time frame given for implementation of the ban, which will impact on tens of thousands of products in stores, was tiny compared to the requirements for out-of-home calorie labelling and the soft drinks industry levy, when retailers and suppliers were given more than a year to adjust to regulation and Natasha's Law on allergen labelling, which has had a lead time of 25 months ahead of its planned implementation October.
"We need a sensible transitional period of at least 18 months from the date of entry into force of the regulation," added a supermarket source. "The provisions will require thousands of stores to be refitted and this takes time, especially in the current climate. Covid will make this a bigger challenge."
The shake-up comes with retailers having spent millions on installing Covid safety measures in stores.
"Extensive refitting work is going to be required in many stores and we cannot have guidelines which are constantly updated potentially challenging costly decisions made."
However, health campaigners have urged the government not to cave into industry pressure and even accelerate its schedule.
Whilst the volume and locations ban come into force in April next year, the government has given supermarkets until April 2023 to introduce an on-pack ban on volume and price promotions for HFSS products.
Barbara Crowther, director of The Children's Food Campaign, said: "We disagree with the delayed enforcement of the on-pack volume or price promotions.
"The original consultation took place from January to April 2019, and the government announced its intention to regulate in December 2020. This is more than adequate time for companies to have been given fair warning – and we believe it ought to be entirely possible to transition in time for enforcement from April 2022.
"The government has an ambitious target for halving childhood obesity by 2030, and every year counts, so we hope they will reconsider this part of the enforcement plan and bring this deadline forward."