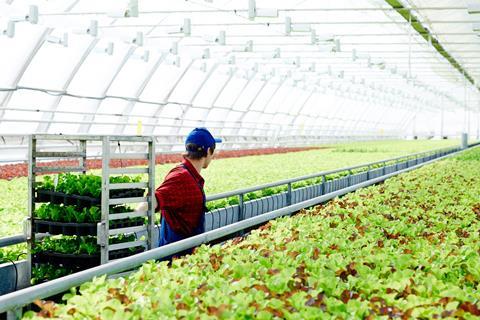 Fruit & veg growers could be forced to move production abroad unless labour cost increases of up to 50% since 2016 are better reflected in prices, the NFU has warned.
The warning has come off the back of a report prepared for the NFU by farm business consultancy Andersons, which found minimum wage increases had added 34.2% to costs in the past five years.
Extra increases had come as a result of a decreasing pool of quality seasonal labour, it found, with Brexit and the weakened pound said to be at fault.
To cover the minimum wage increases alone would require price rises of between 9% to 19% for growers of crops that are especially reliant on seasonal workers, such as blueberries and raspberries, the report said.
Reflecting on the findings, the NFU warned some crops could soon become "unviable" to grow in the UK, with growing operations forced to move abroad unless these costs were more evenly distributed in supply chains.
"At a time when we should be eating more fruit & veg as a nation, we need to be looking at the supply chain and wider government policy to ensure British horticultural businesses can invest and expand, not scale back because of rising wage costs," said NFU horticulture board chairman Ali Capper.
"If nothing is done, we may begin to lose a thriving domestic industry that is incredibly valuable to the nation, contributing more than £3.8bn to the economy. This would simply see more imports of fresh produce to replace that lost production.
"Brexit and Covid-19 have highlighted the importance of local, fresh, secure supply chains and we should support the expansion of British horticultural production."
Capper underlined that UK growers were not disputing the increases to the national living wage and "recognise and support the importance" of it.
From 2016 to 2020, the national living wage rose from £6.50 per hour to £8.72 – the equivalent of an extra £2.66 (34.2%) once holiday, pension and employers' National Insurance contributions were taken into account. This marked a significant jump on the 12.1% rise seen in the previous five-year period.
Andersons' report found that sales prices had remained relatively static over the past five years, leaving growers particularly reliant on making productivity gains.
The production boosts required to meet the increased costs were not possible for every crop, it added. Top fruit growers were particularly exposed to labour cost inflation due to the longer production cycles of their plants, which could be up to 30 years in some cases.
The report claimed there was even evidence to suggest productivity had declined in some instances due to there being a decreased number of quality seasonal workers available to growers.
This left growers requiring a boost in price of between 9% and 19% to cover the increased labour costs, with blueberries, raspberries and asparagus – crops that had seen the biggest labour cost per tonne increases – particularly affected.
Andersons calculated the increased cost of the minimum wage between 2016 and 2020 had led to a £1,330 hike (19%) in costs for blueberry producers, £931 per tonne (+13%) for raspberry growers and £798 (12%) for asparagus farmers.