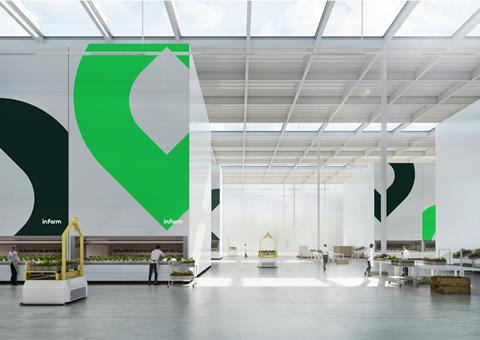 Infarm is to open what it claims is one of the largest vertical farming facilities in Europe, in Bedford.
The start-up is best known for providing retailers like Whole Foods Market, M&S and Selfridges with in-aisle vertical farms the size of a chiller cabinet. But it also serves as a supplier – to Amazon Fresh, Budgens, Farmdrop, Gorillas and Weezy among others – of leafy greens grown at a site in Edmonton, north London.
The company today announced it had signed a contract to build a new 9,760 sq m 'Growing Centre' in Bedford, which is expected to harvest its first crop of herbs and salad in the fourth quarter of this year.
The site will feature more than 5,500 sq m of growing space within Infarm's cloud-connected farming units.
"Infarm has a clear goal to expand in the UK market. Our second UK Growing Centre located in the 'golden triangle' allows us to significantly increase the amount of fresh produce grown year-round in the UK," said Infarm UK country director Jeremy Byfleet.
"The location of the facility enables us to serve 90% of the UK population within four hours, bringing the freshest plants just on time to our clients. Consequently, food mileage is substantially reduced," he added.
Infarm says its Growing Centres can generate the crop equivalent of up to 10,000 sq m of farmland, and use 95% less water, 90% less transport and zero chemical pesticides compared to soil-based agriculture. They can use up to 40% less energy than existing Infarm units.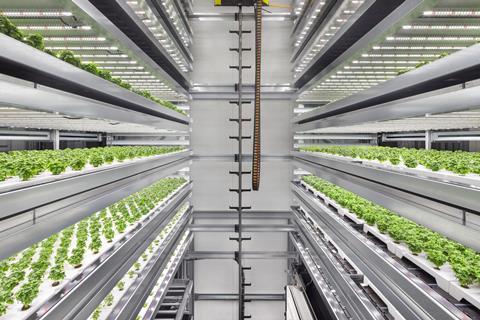 The new site – which is under contruction – includes integrated rainwater harvesting which will save millions of litres of water a year, the company says.
By 2025 Infarm plans to establish 100 of the larger units. Some are already planned or under construction in major urban centres, including in London, Paris, Copenhagen, Toronto, Vancouver, Seattle and Tokyo.The company is currently ramping up its Edmonton operation.
"We have already opened up new positions for our locations in London and Bedford and will continue to do so as we expand our Bedford operation," Byfleet said.
Infarm has partnered with Pentadel Project Management which identified a suitable UK site, negotiated terms and is now designing and managing the construction of the facility.
"One of the largest indoor vertical farming facilities in Europe to date is going to deliver millions of plants and provide fresh and locally grown produce to even more consumers via our retail partners, restaurants and online food retailers," Byfleet said.