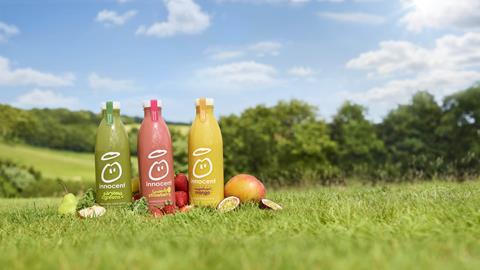 Innocent's sales surged past £400m last year, though the group fell to a loss as it funded expansion across Europe and beyond.
The accounts of parent company Fresh Trading Ltd show group-wide turnover, including its UK operations and its newly established Netherlands manufacturing arm, rose 8.6% to £431.8m last year.
It said growth was driven by expansion of its market share in chilled juice in western Europe by 1.5% to 21.3%, while it has taken its first steps into Asia, with a launch in Japan and China soon to follow.
It said 2020 had brought a "significant change in consumer purchase patterns" as on-the-go products declined.
However, Innocent said juice sales had remained strong as consumers continued to purchase at-home products, making it "one of the more resilient sectors" in the industry. The brand had seen an improvement in performance in the second half of 2020, it added.
An Innocent spokesman commented: "Whilst we have been impacted by the closure of foodservice, the majority of our drinks are sold in grocery so we remain on track of our long-term course.
"Despite all the challenges caused by Covid, we've had a busy year – we successfully relaunched our iconic super smoothies in March, boosted with double the amount of vitamins and with three exciting new recipes, and we continue to grow our innocent + added benefits juice range."
Fresh Trading posted a £13.1m loss after tax, compared with a £5.4m profit in 2018. However, adjusted profit increased by £6.2m after adjusting for corporation tax and derivative movements.
Innocent said underlying sales in the UK improved from £178m to £183m, though headline sales of its UK operating arm fell from £344m to £233m due to an internal reorganisation to split off its manufacturing operations in the Netherlands and international sales.