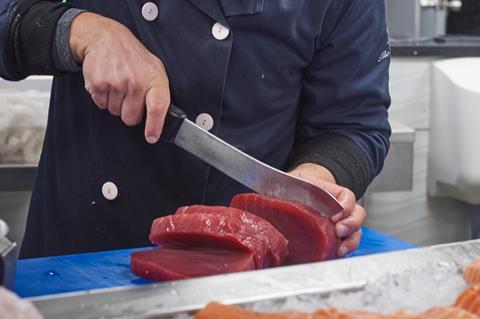 Governments and conservation groups have voiced concern after the latest meeting of the Indian Ocean Tuna Commission delayed a decision on plans to rebuild yellowfin tuna stocks.
With scientists having warned last year that yellowfin tuna – one of the world's most overfished stocks – was in danger of complete collapse by 2026, last week's special session of the IOTC aimed to focus on the sustainability of the fishery.
However, member countries opted to delay any decision on catch limits for yellowfin until the IOTC's next major meeting in June.
The governments of both the Seychelles and the Maldives – whose economies both heavily rely on tuna exports – outlined their dismay at the session's outcome.
Speaking to his country's state news organisation Seychelles News Agency, the Seychelles' newly appointed principal secretary for fisheries Roy Clarisse said: "We in Seychelles are really disappointed that none of the resolutions have been approved.
"It is really important that these resolutions are approved to ensure that the stock of yellowfin tuna and tuna stock, in general, remains sustainable."
Meanwhile, the government of the Maldives said it had found the IOTC's lack of progress "extremely disheartening".
"The government of the Republic of Maldives is alarmed by the lack of urgency and understanding demonstrated by a number of states of the IOTC and the lack of political will to address the matter at [the IOTC session]," it said in a statement.
"The sustainability of the tuna stocks of the Indian Ocean is vital for coastal states, in particular small island developing states such as the Maldives. The Maldives relies heavily on tuna stocks for food security, jobs and livelihoods."
The Maldives had tabled a proposal calling for a catch reduction of at least 15% to 346,00 tonnes – a level last seen in 2015 – as well as an 11% catch reduction for the pole-and-line and handline fisheries in its own waters.
This was tabled alongside a separate EU plan to reduce catches, though it was accused of being "far less ambitious" and would have allowed EU flagged vessels to catch 6,000 tonnes more than the 2019 catch levels, according to the Maldives.
The EU Commission said it had made "considerable efforts" to find a solution and reduce catches "to sustainable levels in line with the scientific advice".
"The EU will now redouble its efforts to have IOTC adopt a plan to protect yellowfin tuna during the annual meeting in June," the Commission said in a statement.
Meanwhile, the Global Tuna Alliance of NGOs, which includes organisations like WWF and the International Pole & Line Foundation, expressed its "bitter disappointment" with the session's outcome but said it would continue to work with the IOTC to get an agreement over the line in June.
The IOTC has not responded to a request for comment.