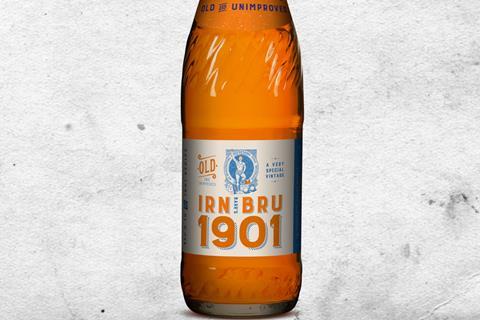 Irn-Bru has resurrected its original, full-sugar recipe.
Called Irn Bru 1901, the drink is based on the brand's original formulation, which is sweetened only with sugar and contains no caffeine.
Rather than cans, it has launched in 750ml glass bottles and will be available year-round as part of the brand's core range.
1901 had previously been launched on a limited basis last year and proved "super-popular with with fans who really loved the recipe but were disappointed when stock ran dry", said Irn-Bru marketing director Adrian Troy.
A premanent full-sugar Irn-Bru has been absent from supermarket shelves since Irn-Bru dramatically slashed the sugar content of its core drink in 2017 to bring the brand in line with the sugar tax.
The drink's "distinct difference comes from its ingredients – quillaia for a frothy head, sweetened only with sugar and containing no caffeine, although of course it still has the same top secret Irn-Bru essence", added the brand.
The launch comes on the back of a less than exceptional year in the mults for Irn-Bru: sales of the brand rose 1.9% to £123.7m in 2020, but its volumes fell 5.9% [Nielsen 52 w/e 5 September 2020].