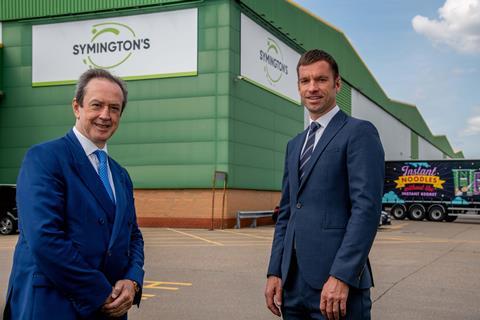 Family-owned Italian dairy and pasta group Newlat Food has agreed a deal to buy Ragu and Chicken Tonight manufacturer Symington's.
The Grocer reported Yorkshire-based Symington's had hired investment bank Houlihan Lokey to explore a sale early this year after booming demand during the Covid period boosted trading.
Newlat, which had unsuccessfully sought to acquire bakery brand Hovis in late 2020, announced today it had agreed a deal to acquire the branded meal and snack manufacturer from existing private equity owner ICG.
Angelo Mastrolia, chairman of Newlat, commented: "Symington's is an interesting business with high potential for growth and we deem it to be a perfect fit into our strategic plan.
"We see a number of synergies between our businesses as we both produce complementary but different categories of products."
Newlat produces milk and milk products, pasta and baked goods, gluten-free and protein-free products and babyfood.
Symington's also operates in the ambient food sector, with brands including Mug Shot, Naked, Twistd, The Hungry Elephant, Chicken Tonight and Ragu.
Mastrolia added: "Not only will there be significant cost synergies but also, this acquisition allows us to enlarge and diversify our product range and our geographical reach. This opportunity enables us to set foot into the UK and thus consolidate our position in this extremely relevant market."
Symington's has undergone a turnaround drive since a restructuring of the group in 2016, which continued under current CEO David Cox, who joined in 2019.
Cox, a former boss at Fox's Biscuits, previously told The Grocer his ambition was to transform Symington's into a global player in ambient food with a particular focus on boosting its exports.
Cox said today: "Newlat wants to invest in our business and our brands. It provides long-term security for our business with an international ambient and dairy food player operating in mutually beneficial categories and is an exciting time for us both.
"By bringing together both businesses we can combine our strengths, accelerate our growth and increase our global footprint. Symington's provides a strong springboard for Newlat's brands into the UK market and Newlat gives us further opportunities to grow our brands internationally where Newlat has operations – in Italy and Germany."
Symington's has manufacturing and distribution centres spread over two locations in Leeds (offices, warehouse and distribution, and a dry meals facility), one in Bradford (producing croutons and bread snacks) and another in Durham (a unique wet meals retort facility).
Symington's reported an improved financial year in the year to August 2020, with sales increasing 4.2% on the previous year to £114m and an 17.5% uplift in EBITDA to £9.6m as the ambient player benefited from stockpiling during the first Covid lockdown.
Former owner ICG acquired the business in a £72m buyout in 2012.