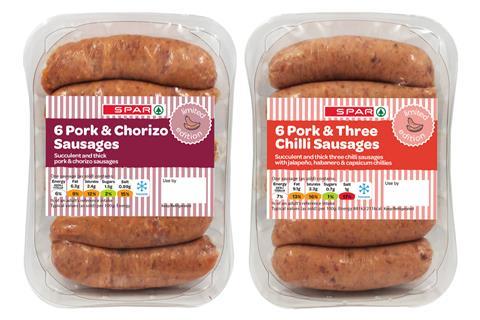 James Hall has added four new sausage flavours to its existing own-brand Spar range.
The new flavours include pork & chorizo, pork & black pudding, pork & chilli, and pork & three chilli, which includes capsicum, jalapeño and habanero chillies.
These will be available across its network of independent and company-owned stores in 400g packs of six thick sausages, with an rsp of £3 or through a two for £5 promotion.
The Spar wholesaler said the new flavours would be released on a rotational basis to add "excitement and variety" to the current range.
The two flavours to be released first for six weeks are the pork & chilli and pork & black pudding sausages, which will then be replaced by the chorizo and three chilli flavours.
The new range will complement its five existing own-brand sausages, comprising Spar's Cumberland, Lincolnshire, Butcher's Choice, Irish Thin, and Irish Thick sausages.
"Spar sausages are a popular choice with customers, perfect for evening meals as well as weekend breakfasts," said James Hall fresh trading manager Tom Holdsworth.
"Spar pork & three chilli, and Spar pork & chorizo sausages will meet customer demands for spicy, fusion flavours, alongside Spar Cumberland and Spar Lincolnshire sausages, which serve more traditional palates."
"By releasing the sausages on a two-period cycle, we aim to bring variety and colour to the shelves, trial new mouthwatering flavours and gain a deeper understanding of which flavours are popular with Spar customers."