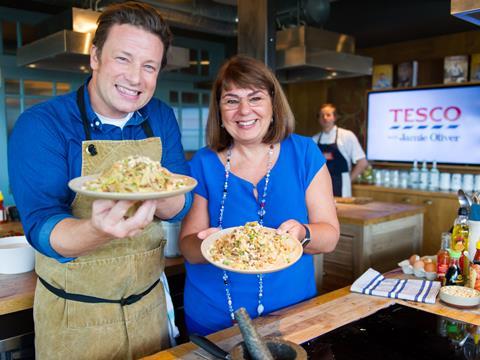 Celebrity chef Jamie Oliver has launched online training for community cooks in lockdown to help feed vulnerable groups hit by the pandemic, in a new phase of his partnership with Tesco.
Oliver, who was signed up by Tesco to help front its healthy eating campaign in 2018, will train 300 cooks working across the UK with food banks or charity kitchens.
The scheme aims to show them how to teach families suffering from food poverty how to cook simple, nutritious recipes to feed their children.
Tesco said the community cooks would all teach at least 15 people in their local community how to cook balanced meals, with the aim of reaching more than 4,500 people by May this year.
Oliver first launched a scheme to teach community cooks with Tesco in January 2019, but the supermarket said the new phase of the work was more vital than ever because of the pandemic.
The free course will see cooks taught recipes and skills to make the most of the food typically donated to charities, such as tinned and store cupboard ingredients.
The campaign is also focused on the importance of cooking balanced meals from scratch, by offering ideas and recipes to increase the use of fruit & veg in everyday meals.
Printed lesson plans and recipes will also be available on the training programme's website
"Now more than ever, nutrition is so important – and small additions or swaps can make a big difference," said Sue Couter, community programme and charities manager at Tesco.
Katherine Hale, food education manager at Jamie Oliver Group, added: "The community cooks we work with are incredible lifelines to their communities, and it's our great privilege to support them in the best way we know how – by passing on our knowledge.
"Sharing our skills with those who can make a difference to hundreds of others is an incredibly powerful thing."
FareShare CEO Lindsay Boswell said: "These sessions will help these community cooks pass their knowledge on to families in their communities and will have a direct benefit in providing nutritious, hot meals to vulnerable people."