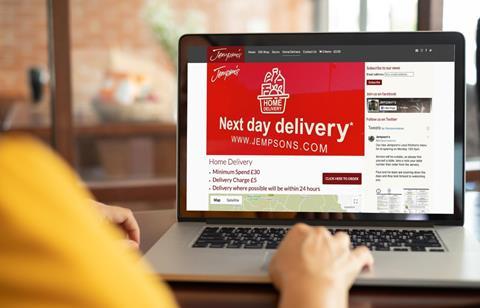 Independent supermarket chain Jempson's has launched an online ordering platform as it ramps up its million-pound home delivery business.
The move builds on the telephone, fax and email ordering systems the family-owned business hastily set up to enable home deliveries in response to the Covid crisis during the first national lockdown in 2020.
Owner Stephen Jempson told The Grocer its turnover for this division has now exceeded £1m, with basket spend averaging at £83. "We are working toward a cost neutral basis at the present time on this, and are not far off where we want to be," he explained.
Jempson's has worked with software specialist VME for the past 12 months to develop its new online ordering facility, which currently has 7,000 SKUs available to purchase and more being added weekly.
These include Jempson's own-label products such as bread and cake as well as its new ready meal range. Butchery and fish goods along with local produce are also available online.
The new system enables customers to order and pay for goods on its website. It also allows for substitute items to be allocated where necessary.
Separate payment and delivery apps have also been introduced to allow staff to pick multiple orders at a time and drivers to plot their routes.
Home delivery now runs from the group's Peasmarsh store with a dedicated picking, checkout and dispatch area, along with a fleet of delivery vans.
"I can recall my father over 40 years ago telling me we were on the verge of going bankrupt," said Jempson. "We had seven mobile shops back then, and he said never get into deliveries. We had resisted but the pandemic forced us to rethink. After a lifetime in the trade, I've been proved wrong again! But we must be guided by customers. The future is going to be different, there are going to be many different routes to market, but we are trying our best to be there with the best in the business – with a local spin."
The East Sussex-based supermarket group is also preparing to roll out a click & collect service, while home delivery of its restaurant and café goods are set to be added to the new online ordering platform.