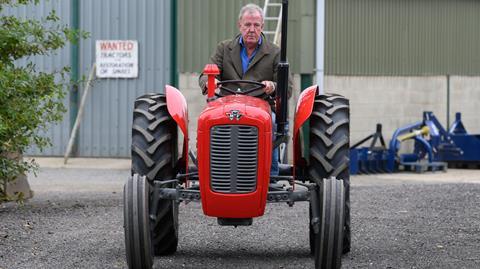 Jeremy Clarkson has apologised to Cotswold residents after floods of visitors to his farm shop brought traffic to a halt.
Via Twitter, the former Top Gear host promised to try to improve the traffic situation around his Diddly Squat farm shop in Chadlington, near Chipping Norton.
The shop is featured in new Amazon Prime series 'Clarkson's Farm', which follows a year in the life of Clarkson after he decides to run the farm.
It has prompted a deluge of visitors to the site, with social media posts showing crowds outside the shop, and has resulted in traffic queues being reported to the police.
Thames Valley Police told The Grocer it had attended the scene on Sunday (20 June) following reports of congestion, and that its neighbourhood team for the area was aware of the situation.
On Monday, Clarkson tweeted an apology that read: "People of Chadlington. I'm truly sorry about the traffic around our farm shop last weekend. We are doing everything we can to improve the situation."
This isn't the first time the shop has upset locals. Some were unhappy when Clarkson opened it.
"A handful of locals didn't like having a farm shop nearby, which I can't quite understand," said Clarkson previously. "If we'd built a nuclear power station I could understand their concerns, but not a tiny farm shop. I'm not quite sure what their beef is, but they don't like it."