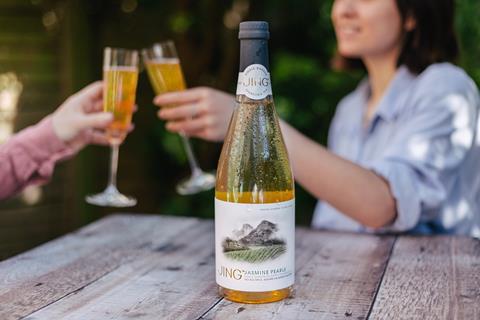 Jing is launching a new sparkling tea billed as an "alcohol-free champagne alternative".
Jasmine Pearls Sparkling Tea offered a natural, non-alcoholic celebratory drink with "no compromise on taste", said Jing (rsp: £17.95/740ml).
It is calorie-free, vegan and contains four ingredients: filtered water, jasmine-infused green tea, tartaric acid and carbon dioxide.
The NPD, which is available to order online now, was made without sugars, artificial flavours or preservatives "so the purity of the authentic tea experience can be enjoyed", it said.
It offered discerning drinkers an "elegant option" for summer celebrations, social gatherings and staycations, it added.
It was crafted from one single garden tea – a spring green tea produced by Tea Master Liu Guoqing at Shekou Garden, in the shadow of the cloudy mountains of Fujian Province, China – it said.
The tea leaves were hand-scented in Guangxi province, using a traditional process of laying fresh jasmine flowers on them over five consecutive nights, it added.
Finally, the leaves had been slowly infused in cold filtered water, "bringing out the perfect balance of rounded green tea body and high floral aroma", then delicately carbonated to deliver a refreshing fizz, said Jing.