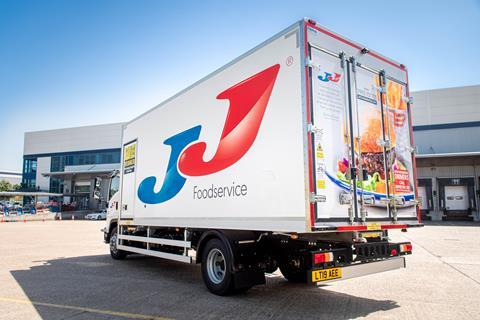 JJ Foodservice has invested more than £1m in 20 state-of-the-art, lorries amid record sales as coronavirus restrictions ease.
The 13.5-tonne Isuzu trucks will bolster its 140-strong fleet across the London-based wholesaler's 11 UK depots.
JJ's sales for the week ending 21 May were up 32% compared with the same period in 2019, as hospitality venues were allowed to re-open indoor seating areas.
"There's been a fantastic appetite for eating out again," said JJ Foodservice head of operations Kaan Hendekli. "Brits are expected to spend even more than they did in 2019, which is great news for the UK hospitality sector. "Our team has been working hard to fulfil every order and we're moving full steam ahead to help expand our support to even more UK eateries."
Last week the wholesaler launched a driver recruitment push to attract at least 20 new HGV drivers. It is encouraging more females into the sector in a bid to help address the UK driver shortage, after swathes of workers repatriated to the EU during the pandemic.