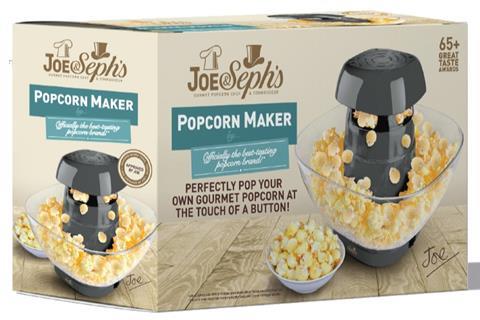 Posh popcorn brand Joe & Seph's is taking a leaf out of Sodastream's book.
The brand has launched a kitchen appliance for shoppers to make their own gourmet popcorn at home – which rings in at £35.
The machine air pops the corn, rather than frying (or microwaving) it, which the brand said "creates gourmet popcorn that is low in calories, a source of fibre and boasts the most delicious, fluffy texture".
The brand will sell Make Your Own Gourmet Popcorn Kits which can be used with the machine to create popcorn in Joe & Seph's flavours (rsp: £6/230g, £25/920g), including Salted Caramel Popcorn, Double Chocolate Popcorn, Classic Caramel Popcorn, Toffee Apple & Cinnamon, and Orange Chocolate Popcorn.
However the appliance will also work with regular popcorn kernels.
Shoppers had "embraced experimenting in the kitchen and home entertaining" since the pandemic hit, said the brand's co-founder Adam Sopher, meaning the NPD would "enter Joe & Seph's into a whole new category of kitchenware, while also providing a new Popcorn Chef experience for our loyal fans".