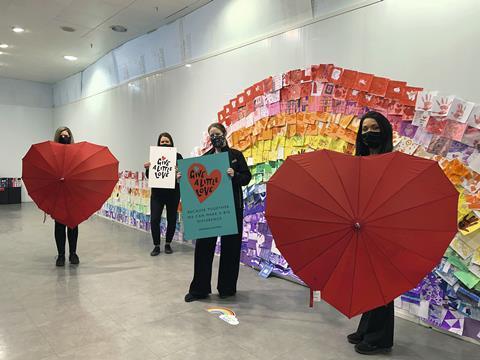 The John Lewis Partnership will donate a further £2m to charity as a continuation of its festive fundraising campaign.
The retailer is extending its efforts to support food redistribution charity FareShare and family support organisation Home-Start in light of continued lockdown measures.
JLP said it would bring together partners' expertise as well as its own resources and networks to help meet the needs of the most vulnerable in society, backed with the further donation. It added it would explore ways to ensure goods such as food, clothing, blankets, pillows and stationery could be given to families in need.
This follows the Partnership raising over £3m for the charities through its Give a Little Love campaign by encouraging staff and customers to get involved by volunteering in the community.
Payments made to the appeal allowed Home-Start to support 10,000 families during the festive period, which was double the number it aimed to reach. Over 1,000 people volunteered to assist the organisation following the airing of JLP's Christmas advert in November.
The funds given to FareShare, meanwhile, helped it deliver the equivalent of four million meals to families, schools providing food for students and refuges. The organisation had 3,000 volunteer registrations – up 364% from 2019.
Donations to Give a Little Love were made through a penny contribution triggered each time MyWaitrose and MyJohnLewis loyalty cardholders shopped in store. Customers were also encouraged to contribute between £3 and £20 via text with PoS signage.
"We are thrilled to have been able to make such a difference," said James Bailey, executive director of Waitrose. "As the impact of this cruel pandemic is felt more deeply across society, we know that now is not the time to take our foot off the pedal. We are hard at work with FareShare to see how we can even further supply food to those who are going hungry."
Pippa Wicks, executive director of John Lewis, added: "The aim of our Christmas campaign was to harness the spirit of kindness we saw in the first lockdown and there's no doubt that we achieved this. But families in need are facing a whole new set of pressures. Although Christmas is traditionally the time for giving, we believe we need to continue this spirit of kindness into the new year."