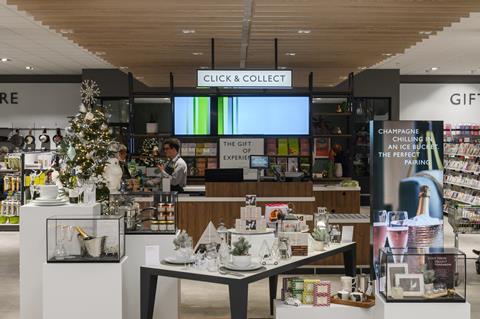 John Lewis is introducing rapid Covid-19 testing for employees.
The retailer has rolled out testing facilities to 40 locations across England through a link-up with the Department of Health and Social Care. The locations include 18 Waitrose and seven John Lewis shops, supply chain sites, Waitrose.com customer fulfilment centres and a John Lewis textiles factory in Lancashire.
The NHS Test and Trace Covid-19 test is conducted on a voluntary basis. Partners administer the test themselves and receive their result over email within around 30 minutes.
The move will provide JLP with the capability to test around 16,000 partners and temporary agency staff per week.
The retailer began piloting testing at its Magna Park distribution centre in Milton Keynes in November. Some 1,000 partners and temporary agency staff volunteered to be tested up to three times a week as part of the trial. Around a third of those who tested positive did not display symptoms.
The Partnership said the rapid testing helped protect its team and customers by quickly identifying those who needed to self-isolate.
"We're proud to have helped develop and establish a testing scheme that contributes towards the UK's fight against Covid-19," said John Lewis executive director for operations Andrew Murphy. "We already have a wide range of measures in place to keep our partners and customers safe and rapid testing builds on this at our busiest time of the year."
Health minister Lord Bethell said: "I'm delighted the John Lewis Partnership are working alongside us in piloting the latest testing technology. It's fantastic such a renowned company is joining us in our efforts to make testing available for workers up and down the country."
Test and Trace director and former Sainsbury's CEO Mike Coupe set out plans last month to begin carrying out mass coronavirus testing of food workers in an effort to avoid a workforce crisis over the winter months.