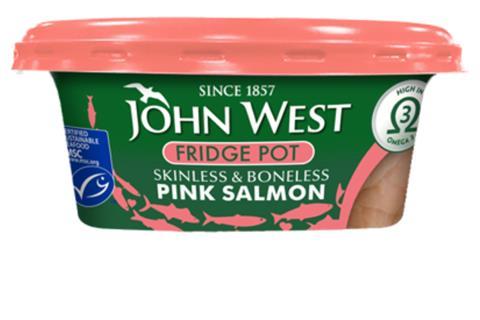 John West has unveiled a Salmon Fridge Pot in a bid to attract younger consumers and make the tinned salmon category "more relevant" to consumers.
With its own consumer research finding canned salmon was perceived to be "old-fashioned and uninspiring" as well as a mere "handy back-up" for emergencies, the brand said the move aimed to make salmon more accessible and get it "front-of-mind in the fridge".
The NPD has been particularly targeted at younger shoppers who are health-conscious but time-poor.
Made from MSC-certified wild Alaskan salmon that is both skinless and boneless, the new Fridge Pot is set to come in fully recyclable plastic packaging. It will go on sale in Morrisons this week (rsp: £3/128g).
"The introduction of Salmon Fridge Pot alongside our canned products gives consumers more choice when it comes to this natural and versatile source of protein," said John West Foods international marketing director Jon Burton.
"Our Tuna Fridge Pot has proven that the format helps reach a younger shopper and expanded drained tuna's usage. We're thrilled to bring this game-changing innovation to the ambient salmon market and to inject a much-needed boost into the category."
It is the latest NPD from John West that has targeted convenience, following the 2019 launch of its Cracker Toppers and 2020's Tuna Meatball ready meals.
The news follows last week's announcement by the brand's owner Thai Union that it has partnered with global environmental NGO The Nature Conservancy to commit to "full supply chain transparency" across its global tuna operations.
The move was part of an effort to push the entire tuna sector towards eradicating illegal, unregulated and unreported fishing practices, the company said.
It came ahead of this week's session of the Indian Ocean Tuna Commission – beginning today (8 March) – that will focus on the sustainability of yellowfin tuna.
The intergovernmental organisation's own research has shown 94% of yellowfin stocks are overfished. Greenpeace has claimed the species' population could collapse without urgent action.