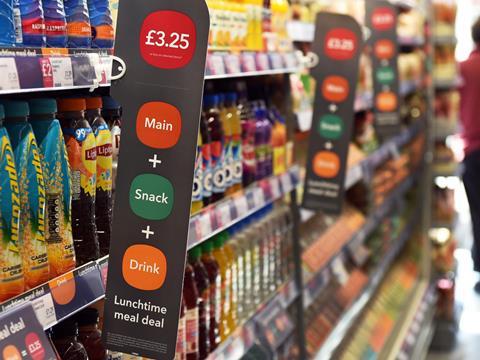 The government has agreed to a six-month delay for implementation of its controversial HFSS promotions ban, The Grocer can reveal.
The move, confirmed today, was welcomed by industry bosses who have claimed the timeline for the changes, including sweeping bans on price promotions and those in prime locations, would cause huge disruption in stores still coming to terms with the end of lockdown.
The Grocer revealed in March that retailers and suppliers had urged the government to think again about the April 2022 introduction date.
Supermarkets and suppliers had argued the required change to aisles, store fronts and checkouts would take much longer, describing the timeframe as "impossible".
"Although it is disappointing that the government is pressing ahead with its plans to restrict promotions on supermarket shelves, we are pleased to see that the government has listened to industry and has delayed the implementation period by six months to October 2022," said FDF chief scientific officer Kate Halliwell.
"This will allow businesses more time to adopt the upcoming restrictions.
"However, we still await vital information including detailed guidance on product categories captured by the restrictions and updated guidance on the nutrient profile model.
"We urge the government to act swiftly and provide the relevant information to enable companies to implement these changes."
Barbara Crowther, co-ordinator of the Children's Food Campaign, said she was "disappointed" at the delay but pleased that the government was still pressing ahead with the plans despite what she called "a huge industry lobbying attempt to bury it".
"We've been campaigning to get junk food out of checkouts for over 25 years, and let's be in no doubt, this is a good day for public health.
"We're pleased the government has taken the next step to lay the new regulations on price and location promotions in Parliament, which marks a major milestone in our journey towards a healthier food environment. We're disappointed that implementation will now be delayed another six months to October 2022, especially given the consultation took place over two years ago, and time is running out to halve childhood obesity levels by 2030.
"We hope the food industry and retailers will use this extra time responsibly to ensure they are already compliant with new regulations well ahead of the new deadline."
The decision to delay the implementation comes days after an FDF report claimed the government's promotions ban would cost suppliers alone more than £800,000 a year.
"These restrictions brought forward by the government are unlikely to impact obesity rates, but will undermine existing government policies, principally the reformulation programmes to reduce calories, sugars and salt and reducing portion sizes," said the report.
"These policies will prevent companies from advertising and promoting many healthier, reformulated and smaller portion products developed specifically in response to the government's own programmes. It is difficult to envision how companies will be able to justify continued investment in this innovation if an important mechanism to bring the products to the market is blocked."