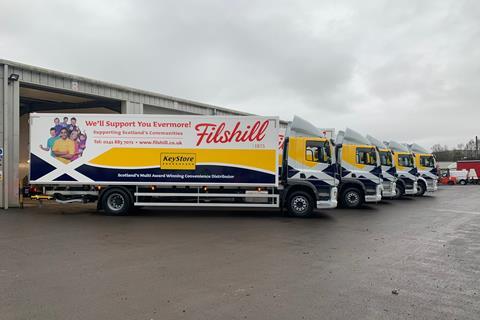 JW Filshill has invested £600k upgrading its fleet of vehicles with five bespoke vehicles as it commits to driving down its carbon footprint.
The Glasgow-based wholesaler has purchased three 18-tonne and two 26-tonne bespoke lorries.
The new trucks are more fuel efficient and meet the latest Euro 6 specifications, and take its total fleet number to 34.
The investment comes as JW Filshill prepares to move its distribution centre to Westway in 2022, a few miles from its current base.
"As we use cages for deliveries, we don't need quite so much height so these new vehicles are a foot lower than our existing fleet, making them more energy-efficient," said JW Filshill senior operations manager Stuart MacKenzie.
"Combined with a full telematic system featuring eight cameras and bespoke satnav supplied by Belfast-based Simplicity Group that coaches drivers, plus on-site training, this new fleet will form a key component of our strategy to reduce our carbon footprint.
"Covering all of Scotland and the north of England as far as Leeds, we have previously rerouted journeys to reduce our mileage significantly, creating carbon and cost savings which we have been able to reinvest in upgrading the fleet."