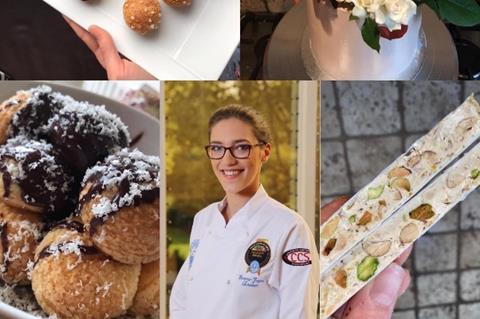 Keelham Farm Shop food production & planning manager Emma Lawson has been named young pastry chef of the year by the Royal Academy of Culinary Arts.
Lawson received the title in RACA's Annual Awards of Excellence (AAE), which are described as the "most prestigious award available to young professionals in the hospitality industry".
The AAE is an examination rather than a competition, which means all or none of the candidates can achieve the award depending on whether they attain the standard of excellence set by the judges. The candidate who scores the highest marks in each section – kitchen, pastry and service – is named young chef, young pastry chef or young waiter of the year.
This year's judges asked candidates to share something they were proud of achieving during lockdown.
Lawson's activity included baking bread for her neighbourhood and giving it to the most vulnerable people for free. She also made Facebook videos to teach children learn how to bake, and went on to create afternoon tea pop-up days.
Lawson also held doughnut days, getting up at 4am, rolling, frying, and filling the doughnuts before delivering them to local doorsteps.
"My favourite part of it all was being able to chat with the older people in my area," she told judges. "One lady in particular was 93 and hadn't seen anyone in months. So I made extra effort to go see her for a chat, I took a flask of tea and chatted so she wasn't lonely, at least not for that small amount of time."
RACA chairman John Williams said one of the most satisfying things about working in the hospitality industry was seeing ingenuity and innovation.
"We knew our AAE candidates would embrace the challenge of lockdown and they certainly did," he said. "We have received a range of truly inspirational stories that included self-improvement, baking for their local NHS hospital and even starting their own businesses."
Lawson's bosses at Skipton-based Keelham Farm Shop described her as a much-loved and enthusiastic member of the team. Before joining Keelham she worked at Bettys bakery in Harrogate, Northcoate Hotel in Blackburn and at The Devonshire Arms Hotel, Somerset.