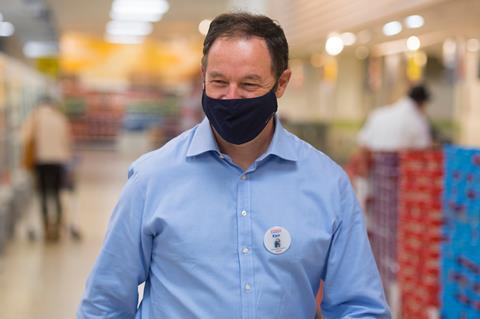 Tesco CEO Ken Murphy has said the supermarket is in "no rush" to get rid of social distancing measures, despite Covid costs of almost £900m seriously denting its profits during the pandemic.
The extra costs, incurred from factors such as PPE, the closure of in-store cafés, safety screens and employing at one time up to 50,000 extra staff, were cited by Tesco today as the reason for a big fall in its profits, alongside the repayment of the government's business rates relief.
Despite the country beginning to come out of lockdown, Tesco predicted it would face at least another £200m of pandemic costs in the current financial year.
However, Murphy told The Grocer it would stick with social distancing measures for as long as it took to keep customers safe.
"We believe that customer safety and colleague safety is absolutely the first priority," he said.
"So, we are in no rush to get rid of any measures that we think help people stay safe.
"We have no idea how long this pandemic will be with us and how it may change or develop over time."
Murphy claimed Tesco customers had reported higher scores for availability and queuing at checkout since the pandemic began than before, adding: "Ironically, customers, I don't think, are suffering from social distancing from a shopping perspective.
"They may be from a social perspective. If anything, I think choice has increased irrespective of the safety message."
Despite profits at Tesco plunging by more than £700m despite sales rocketing by nearly 9% in the UK, in the year ending 27 February, Murphy said it was best placed of all the supermarkets to capitalise on what he described as the "hybrid" model post lockdown.
"Clearly the fact that we have a massive convenience network and huge online coverage of 99% of the country means that the country can shop with us whatever way they want to in a way that suits them," he said.
UK online sales shot up over the year to £6.3bn, up 77%, with capacity doubling to 1.5 million slots a week, and Tesco announced its second automated picking urban fulfilment centre would open in its Lakeside Extra next month, the first of five such operations launching this year.
Murphy said the first centre, which opened in West Bromwich last year, had proven to be far more efficient than traditional in store picking.
However the Tesco boss said traditional store shopping would "continue to be the backbone of our business", though it would ramp up its food-to-go offer in neighbourhood stores compared with stores in urban areas because of the shift in shopping to more local.
Murphy also vowed Tesco would continue its strategy of everyday low prices and hinted at a major escalation of its Clubcard Prices campaign, which he said had seen Tesco win customers from all its rivals.
Asked what the drive on prices meant for suppliers, he said: "We expect them to collaborate with us continually" to keep prices down.
"Our commitment to value is nailed down and we will be looking to them to innovate and collaborate with us continually to keep prices down and quality up. That is an inevitable part of doing business with Tesco.
"At the same time, we want to be a good partner so we want suppliers to have a platform where they can really showcase their innovation and be rewarded for their innovation."