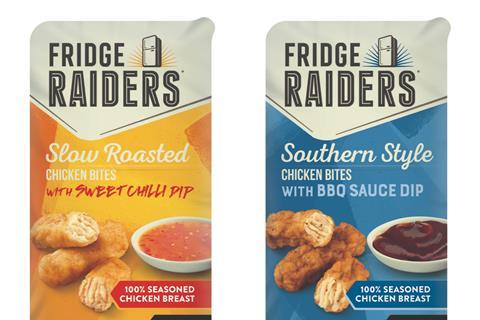 Kerry Foods has expanded its Fridge Raiders range with a new chicken & dip variant and two new packaging formats – a grazing tub and an adult multipack.
Designed to capitalise on changing snacking habits over the past year, the new products started rolling out in Asda this week, followed by Tesco later this month.
The brand's chicken & dip variant combines its existing chicken bites line with dips in slow roasted with sweet chilli and southern fried with BBQ SKUs (rsp: £1.29/80g). Kerry said the duo was suitable either on-the-go or at-home and catered to the growing demand for diversity in meat snacking.
Fridge Raiders' Grazing Tub, meanwhile, was a response to consumer demand for more at-home friendly snack formats, Kerry said. Available in a larger format for the first time, the brand's roast chicken bites grazing tub (rsp: £2.29/185g), stayed fresher for longer and would also meet the need for "a bigger, cost-effective solution to shopper hunger cravings".
Finally, the new adult multipack contains two of its 45g roast chicken bites, one 45g southern-style chicken bites and one 45g katsu chicken bites (rsp: £2.49).
The NPD follows strong growth for the Fridge Raiders brand, which had seen volume sales rise by 18.7% over the past three months [IRI excl discounters w/e 21 March].
"We've seen a huge shift in how consumers are snacking, driven by changes to the way we live and work," said Fridge Raiders brand manager Julia May.
"Our chicken & dip is an exciting twist on our popular southern fried and roast chicken bites, providing shoppers with a tasty BBQ and sweet chilli dip. The new launch packs a punch with flavour whilst providing a healthy and fulfilling snack for shoppers."
The grazing tub and multipacks allowed retailers "to diversify their snacking ranges both in food-to-go and in back-of-store, which we know is increasingly important", she added.
"We're working hard to directly respond to evolving snacking habits with tasty and diverse options that will drive the whole meat snacking category forward."