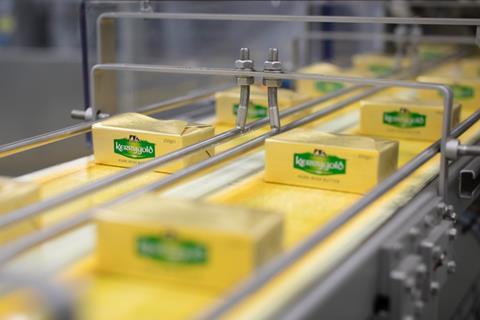 Irish dairy co-op Ornua saw record profits last year on the back of a strong global performance for the Kerrygold brand.
The Dublin-based dairy company, the parent of Pilgrims Choice owner Ornua Foods UK, saw operating profit before exceptional items grow by 69% to €83.1m for the 12 months to 26 December, with group EBITDA before exceptionals rising by 49.6% to €107.4m.
Those exceptional items amounted to a €12.2m charge for impairments of various global assets.
Group turnover, meanwhile, rose by 0.9% to €2.34bn. Ornua put the relatively low increase in sales compared with its big profit hike down to a reduction in lower-margin sales on the ingredient and commodity side of the business.
At the same time, however, it experienced an increase in sales of higher-margin branded and retail-focused goods. The performance of Kerrygold – which saw a 13% increase in global volumes – was a particular highlight, as it sold more than 10 million packets of butter and cheese a week.
Pilgrims Choice was also singled out by the supplier as it "outperformed the UK's cheddar category with 29% growth year on year", according to its annual report.
The dairy co-op also reported a 25% decrease in absolute emissions since 2016 and a 38% reduction in carbon intensity per tonne over the same time period. The total amount of food waste as a proportion of total food handled by the business also decreased, by 29% compared with 2019.
It described its 2020 results as "robust", with its performance achieved "against the backdrop of a complex trading environment dominated by Covid-19, market volatility, and the macro-economic challenges of Brexit and punitive US tariffs".
This allowed it to deliver a 54% year-on-year increase in the brand premium and bonuses paid to co-op members via a record €68.7m 'Ornua Value Payment'.
"Ornua had a unique performance in a unique year, and we are pleased to report a record profit," said Ornua CEO John Jordan.
"The strong fundamentals of our business – great people and great products – came to the fore, allowing us to maximise the opportunity presented with the change in consumer behaviour, doubling down on driving profitable value growth against the backdrop of the global pandemic," he added.
"This performance delivers on our commitment to maximise returns to our member co-operatives and the 14,000 farmers who supply them."
Looking ahead to 2021 and onwards, Jordan said Ornua was "cautiously optimistic about the gradual reopening of economies as the global vaccine rollout gathers pace".
The business now also had clarity on Brexit, "and we welcome strong signals from the US on improved US/EU trade relations".
This, coupled with a new five-year strategy focused on driving profitable growth in priority global markets, "will ensure we continue to deliver value for the 14,000 Irish farming families we represent", he said.