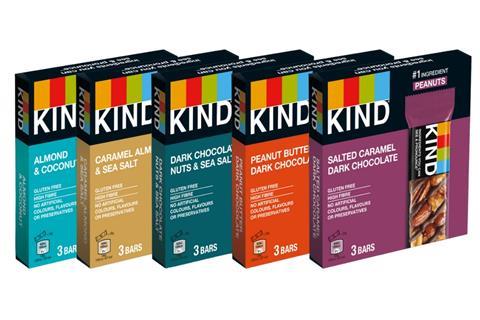 Kind Snacks is putting its faith in multipacks to combat slipping impulse sales.
It will launch its core flavours into three-pack formats, with Peanut Butter Dark Chocolate, Caramel Almond Sea Salt and Dark Chocolate Nuts & Sea Salt to hit Sainsbury's and Morrisons this month, and Coconut & Almond and Salted Caramel Dark Chocolate to hit Waitrose from 22 February (rsp: £3/3x30g).
The move comes as multipacks are seeing "the most significant growth" at present, said Kind, impulse sales having fallen during the coronavirus pandemic.
Kind Snacks marketing director John McManus said seeing impulse sales "fall off a cliff" was a real worry for the brand, though its existing multipack offering (larger boxes of 12, sold through various online retailers) "held pretty steady".
"We drive trial through singles and an impulse offering, and that occasion just wasn't around any more," he said. "The worry was there, but we quickly turned that into 'what can we do here?'."
Kind Snacks was hopeful singles would "come back to being the bedrock", but said multipacks were "always going to work for us".
It follows a similar move by free-from snack brand Livia's in October last year, which saw it launch three-packs of its Million Squares and Nugglets ranges a year ahead of schedule, its CEO Olivia Wollenberg told The Grocer.
"We always wanted to launch multipacks and sharing formats into the free-from aisle at some point down the line, but with the pandemic and an increasing amount of customers buying bulk over impulse we had to react quickly," she said.