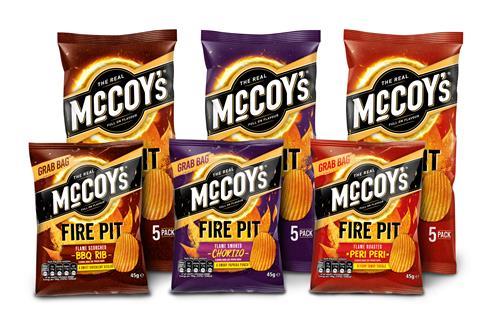 KP Snacks has created a new range of premium McCoy's crisps called McCoy's Fire Pit.
Billed as being inspired by full-on, barbecue-style flavours, the range consists of three flavours – Flame Roasted Peri Peri, Flame Smoked Chorizo, and Flame Scorched BBQ Ribs.
"We want to be known for those bold flavours to we thought about how we could take these trends and put a McCoy's spin on it," said KP Snacks marketing director Kevin McNair. The NPD would "offer an uptrade" from core McCoy's with an eye to getting shoppers "to realise that maybe some of the choices they've been making in standard flat crisps can be elevated", he added.
"The market we're going after is people that crave flavours, especially at lunchtime as we go back into some degree of normality", he said.
The crisps will roll out in multipacks, 45g grab bags and £1 PMPs.
McNair said KP would "look to extend" the range once it began to gain traction in the market.
The launch will be backed by a £2m push spanning in-store, TV, digital and out-of-home marketing.