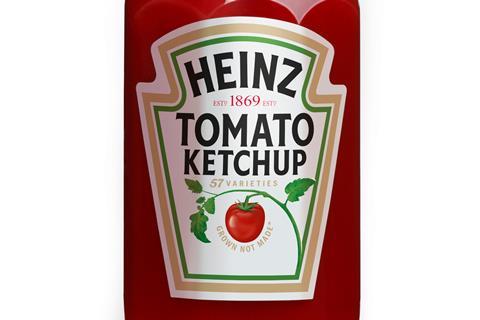 Kraft Heinz has unveiled plans to start making its ketchup, mayo and sauces in the UK with a £140m investment into its manufcaturing capabilities.
The fmcg giant said it planned to create up to 50 new jobs with the investment into its Kitt Green factory, near Wigan, where its Beanz, soups and pasta ranges are currently made.
Billed by the supplier as a "strong vote of confidence in post-Brexit Britain", the move – which is subject to final approval from Heinz' US HQ – would see updated technology and equipment installed at the site, which was "the first of its kind across the Kraft Heinz network".
It will be the biggest expansion of a Heinz manufacturing site outside the US in 20 years.
"With this, the site will minimise the use of non-renewable sources, producing items that are fully recyclable and ultimately helping to considerably reduce the site's CO2 footprint, aligning with its ESG commitments," said Kraft Heinz.
Production of its ketchup, mayo and salad cream would be brought to the UK "to meet the demand from a new generation of UK consumers", it added.
Indeed, the business has spent recent years looking to broaden the appeal of its core brands, especially among millenials and gen Z shoppers, with plays such as taking the Beanz brand into on-the-go chillers and freezers.
The facility currently produces 1.3 billion cans of food per year, 94% of which are consumed in the UK.
The plans meant "we are now in the fortunate position where Kitt Green can become a much more modern facility and our teams will have the ability to adopt more contemporary ways of working whilst exemplifying the highest global standards for food manufacturing", said Kitt Green site director Luis Spinardi.
"Not only are we excited to be expanding our product mix by bringing sauces back to the UK but also look forward to a more efficient facility with a sustainable future."
The move was hailed by Joe Clarke, Unite national official for food, drink & agriculture, as "tremendous news for the hard-working members at Kraft Heinz", who added it reflected "the exceptional co-operative working that has been built upon over many years especially over the past 12 months, with everybody pulling together through Covid, keeping the nation fed throughout the global pandemic".
The news comes on the back of a stellar year in the supermarkets for the Heinz brand, which added £72.5m to its value – a 17.6% gain [Nielsen 52 w/e 26 December 2020]