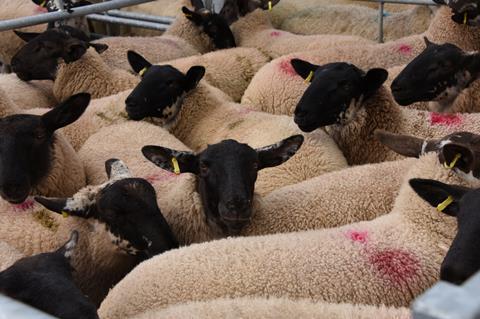 Lamb exporters are seeing significant increases in costs and bureaucracy when trying to access vital EU export markets, in a trend that could ultimately threaten the future of some processors and suppliers.
The sector had "dodged a bullet" by maintaining post-Brexit tariff-free access to the EU market through the free trade agreement signed by the UK and EU before Christmas, said Hybu Cig Cymru/Meat Promotion Wales market development manager Rhys Llywelyn.
But it was now toiling with a series of non-tariff export barriers that had the potential to create "huge problems" if they continued in the medium-term, Llywelyn warned.
The Welsh lamb sector was particularly exposed due to its need to export 35% of its volumes per year (rising to 50% in the summer) in order to maintain carcase balance and profitability, he added.
Like the recent issues faced by the pig and seafood sectors, Llywelyn agreed with wider industry concerns that many of the delays seen by lamb exporters centred around "a lack of consistency around the interpretation of customs guidelines on the ground".
Lamb's propensity to be included in "multi-drop" exports, where one lorry could have as much as thirty consignments, also compounded the situation.
Several industry figures have suggested to The Grocer that delays linked to additional vet inspections, EU customs and increased paperwork are adding hours to export times, leading to an average of about £1.20 in extra costs per lamb exported.
"We're also seeing increasing haulage costs as some vehicles are seeing delays of up to 24 hours per load," added a senior industry source. "The worst case we've heard of so far was a truck that was stuck in Calais for five days. Most hauliers consider the cost of a 24-hour loss to be in the region of £500, taking into account driver wages and loss of productivity."
Average lamb prices were relatively high, at around the £100 mark currently, said National Sheep Association CEO Phil Stocker. Demand was also high on the back of a strong showing for the category last year, as UK consumers spent 10.8% more than in 2019 [Kantar], he said. But if prices were to fall in light of an expected economic downturn in 2021, "that loss of time at the border could lead to a big loss of value" for a sector operating on thin margins, he warned.
His comments were echoed by Llywelyn, who added "the viability of some plants in Wales could be affected if this continues, and that could undermine years of hard work by the sector in opening up new export markets in the EU".
That particular concern follows warnings by lamb processor Randall Parker Foods in an interview with the BBC last week that the extra cost and paperwork of selling meat into the EU meant it was making "virtually nothing".
However, Norman Bagley, policy director for the Association of Independent Meat Suppliers, stressed the border delays were now improving, while the extra costs of £1.20 per lamb were small in comparison to the £10 a lamb hit taken by the sector when the price of sheepskins collapsed last year.
"There were serious delays at the start of January, with significant problems in terms of customs controls on either side of the channel together and problems issuing of export health certificates, with limited veterinary resource and sometimes unreasonably high costs for issuance," he said.
"There are still issues regarding the interpretation of the rules, particularly on the other side of the Channel, but we've also seen a big improvement recently. It's not by any means perfect but it is better."