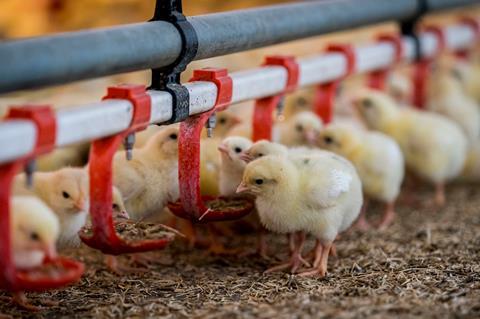 Subway, Starbucks, Domino's and McDonald's are lagging behind on broiler chicken welfare, a new report on UK fast food outlets has found.
World Animal Protection's annual Pecking Order report, published today (19 July), ranked leading global QSR and foodservice chains on their commitment, ambition and transparency on chicken welfare in their supply chains.
It placed KFC as the overall top-scoring company with 92% – putting it in the top leadership tier in the UK – thanks to its alignment with the Better Chicken Commitment and the depth and scale in which it had reported on its performance.
Nando's (78%), Burger King (70%) and Pizza Hut (67%) – all of which have signed up to the Better Chicken Commitment since the previous assessment in January 2020 – moved up the rankings.
Nando's moved up a tier to be classed as 'good', while Burger King and Pizza Hut leapt from the 'poor' tier to 'making progress'. Like KFC, all three scored 100% on their corporate commitments alongside their objectives and targets. But when it came to their welfare reporting mechanisms, Nando's scored 33%, Burger King 10% and Pizza Hut 0%.
Both Starbucks and Subway came in at the bottom of the pile with scores of 0% and 'very poor' ratings. Domino's and McDonald's were restricted in their rankings ('poor' and 'getting started' respectively) as their UK operations had not signed up to meet the BCC.
Reflecting on the report's findings, WAP's global campaign head Jonty Whittleton said companies which were falling behind were risking their reputations.
"KFC once again has shown leadership in the UK and Europe. But it is disappointing that companies such as Starbucks, Subway, McDonald's and Domino's are refusing to change for the better," he said
"Many big brand restaurants are denying billions of birds the chance to see sunlight, grow at a healthy rate or behave naturally. Covid-19 has taught us that the welfare of animals and human health is interlinked – there should be no business as usual. Commercial motives are driving cruelty and suffering, and this needs to end."
In response to the report, KFC urged its fellow QSR chains to work harder on chicken welfare.
"Chicken welfare is a serious business and it's something we know our guests care deeply about. We believe that serving quality chicken starts with high animal welfare standards on farms, and with sourcing birds that have had a good life," said its UK & Ireland general manager Paula MacKenzie.
"We know there's always more to do to raise the standards. We're going to keep pushing and reporting, and will continue to lead on promoting transparency, and we'd love our peers to get stuck in too."
Nando's, Burger King and Pizza Hut all said they were working towards improving their welfare practices, while Domino's said it believed it was making "good progress" on the issue.
"We support the aims of the BCC and many of the processes we currently have in place meet, and in some cases exceed, the requirements of the BCC as well as the regulations for chicken welfare in the UK and Europe," said Domino's Pizza Group's supply chain director Peter Trundley.
"We believe that improving animal welfare is a continual process. We are committed to working in an open and transparent manner, including supporting our suppliers to ensure that they improve upon the high standards of animal welfare which we, and our customers, expect."
Trundley added that broiler chickens in Domino's supply chain enjoyed environmental enrichment in line with BCC standards, as well as perching space and natural daylight.
The other businesses mentioned in the report were approached for comment.
This year's Pecking Order was the first edition of the report to break down its findings across 14 countries rather than amalgamate them into a global report.
When judged on the average scores of their QSR outlets, the UK came out on top with an average compliance score of 45%. The US was second with an average of 39% and the Netherlands was third with a score of 35%.