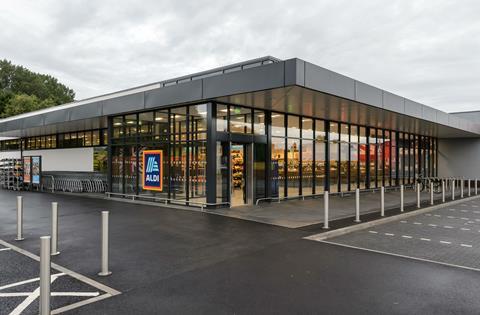 Lidl and Aldi will be an estimated 12 to 24 months late in hitting their store opening targets, according to analysis.
Trading overlap with their own and each other's stores will increasingly hamper progress as each discounter nears its target, according to retail location analysts Maximise UK.
Aldi currently has about 920 UK stores, with a long-term target of 1,200 by 2025, while Lidl has 860 with a target of 1,000 by 2023.
Maximise UK, which counts leading retailers among its clients, matched the profile of the discounters' existing store network to its database of 70,000 retail locations across the country, from retail parks to local parades.
Based on their current estates, the analysis identified a reluctance of both discounters to trade within 2km of their own existing stores, and a preference for being at least 1km apart from each other.
As their estates grow, these criteria will make it increasingly difficult for each to find suitable sites in a battle for remaining space, according to Maximise UK.
"One thing that really stood out in the analysis is their trading overlap, and that is starting to intensify," said Maximise UK CEO David Haywood, former Somerfield head of store location.
"Once you put another few percentage points on these store numbers, that's the real break, as it gets harder fitting in around yourself.
"You've also got the likes of Home Bargains and B&M hunting down these locations, and then there's the new Russian discounter Mere looking for space.
"Maximise UK estimates it will take 12 to 24 months longer [than anticipated] to reach these targets as the challenges become more prominent."
A shortage of essential building materials, driven by booming demand for housing and home improvements along with Brexit red tape delaying the supplies, is understood to be presenting further challenges for store openings.
The analysis found only 6.4% of Aldi stores fell within 2km of another Aldi store. For Lidl, the figure was 10.4%. Meanwhile, the combined number of Aldi and Lidl stores within 1km of each other was 152, out of a total combined estate of about 1,800.
Last week, Lidl took the unusual step of announcing its latest annual property requirements brochure to national media including The Grocer. It is thought to be a potential sign of intensifying competition for space between the two discounters, coming a week after Aldi announced its latest site requirements to regional media.
Commenting as the requirements were announced, Lidl GB CEO Christian Härtnagel said: "We are calling on developers and landlords up and down the country to help find potential sites for us to build Lidl stores, which demonstrates the continued ambition we have to further expand our store portfolio across the nation."
A Lidl spokesman added today: "Our store expansion plans have continued at pace, despite the challenges of the past year, and we are proud to have been able to meet our ambitious target of opening on average one new store per week across Great Britain. We remain on track to open 50 new stores this year and meeting our 1,000 store target by the end of 2023."
Aldi also maintains its expansion plans and store targets are on course and remain unchanged.
As reported by The Grocer in January, Aldi fell slightly short of its annual target of 50 new stores last year, opening 37 amid delays to construction work.