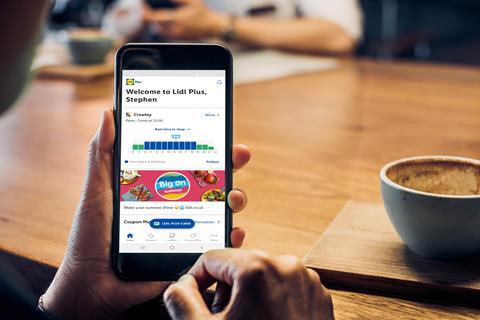 Lidl has launched a new feature in its loyalty scheme app aimed at helping customers avoid crowds and easing shopper numbers throughout the day.
Upon opening the Lidl Plus app, users are now greeted by a banner saying 'Best time to shop'. Clicking on the banner produces a bar chart, indicating how busy the shop is during each trading hour of that day. They can also elect to see a similar bar chart for any other day of the forthcoming week.
The graphs, which show the quietest times to shop in green and peak times in blue, is updated in real time, according to Lidl.
The aim is to allow customers to check for off-peak shopping hours at each store and plan ahead for a quieter in-store experience, the discounter said.
It's one of a number of measures introduced by supermarkets in the pandemic to regulate shopper numbers. Rival discounter Aldi introduced a traffic light system at store entrances last year, followed by Home Bargains and Tesco.
Others such as Sainsbury's and Asda have trialled 'virtual queueing', using an app to notify shoppers when it's their turn to enter the store, so they don't have to physically wait in line.
Lidl launched its loyalty scheme app last autumn, giving users weekly discount coupons entitling them to up to 25% off selected products.
In January, Lidl GB CEO Christian Härtnagel credited the app with contributing to 17.9% overall sales growth in the four weeks to 27 December, saying it had proved "hugely successful".