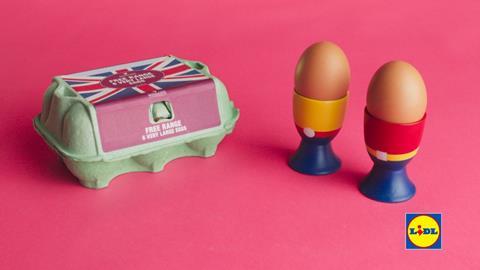 Lidl has become the new sponsor of Channel 4 cooking programme Sunday Brunch.
The discounter plans to use its social media channels to showcase how Lidl's ingredients can be used to make recipes from the show, which features cooking demonstrations with celebrities.
It would also use sponsorship idents to share "more of our tongue-in-cheek personality and position our quality British produce as the stars of the show", said marketing director Claire Farrant.
"Sunday Brunch is a hugely acclaimed show and brings to life our passion for delicious, high quality food, so we're excited about the opportunities this partnership will offer," Farrant said.
"We are also supporting customers replicating the recipes, with our award-winning products, at the lowest possible prices."
Lidl took over from TK Maxx on 14 February as sponsor of the Sunday morning programme hosted by Tim Lovejoy and Simon Rimmer. Idents on the first Lidl-sponsored episode featured two free-range eggs as characters introducing the show.
Jonathan Lewis, Channel 4 head of digital & partnership innovation, said: "We're really looking forward to another fantastic series of Sunday Brunch, this time with Lidl as our sponsor. This significant new partnership provides the perfect opportunity for Lidl to inspire viewers to get creative with their cooking, as well as champion their quality British produce."