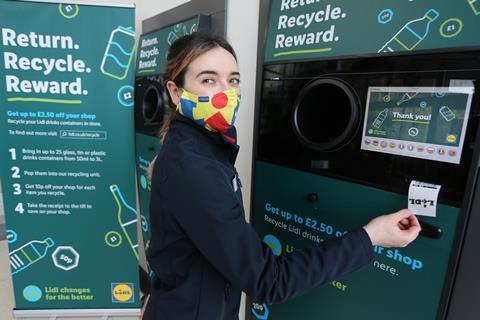 Lidl has launched a deposit return scheme in Scotland using reverse vending machines.
The machines have been installed in stores in Hamilton, Edinburgh Granton, Glasgow Yoker and Dundee's city centre. They are due to be in all Lidl's 105 stores across Scotland in time for the Scottish government's planned national DRS rollout in July 2022.
Users are rewarded with shopping vouchers worth 10p for each undamaged empty plastic or glass bottle or aluminium can originally bought in Lidl. The maximum value of a voucher is £2.50.
The returns would be recycled into new drinks containers, Lidl said.
"This is a huge milestone for Lidl, and one we have been working towards for several years," said Lidl regional director for Scotland Ross Millar.
"We've made a significant investment to install large-scale, contactless, user-friendly and future-proofed machines for our valued customers.
"This initiative reinforces our commitment to sustainability, enables our shoppers to redeem money to spend in-store and supports the Scottish government in reaching its waste reduction targets."
DRS plans across the UK have been delayed in the pandemic. The UK government pushed its launch date back a year to 2024 in December. Scotland's scheme was originally set to launch next month before being pushed to July 2022.
The Grocer reported this week that Scotland's plans could face another year-long delay after ministers launched a review of the practicality of the deadline amid the ongoing disruption for retail caused by the pandemic.
Lidl said it had worked with Scottish government and environmental body Zero Waste Scotland on developing its DRS trial.
Zero Waste Scotland CEO Iain Gulland said: "It's great that this trial will give people the chance to give it a go for themselves and see just how straightforward it is. Just by taking back your empty bottles and cans, you'll be helping to put a stop to the waste of raw materials that are driving the climate crisis."
Iceland became the first UK retailer to launch reverse vending machine trials in stores in May 2018.