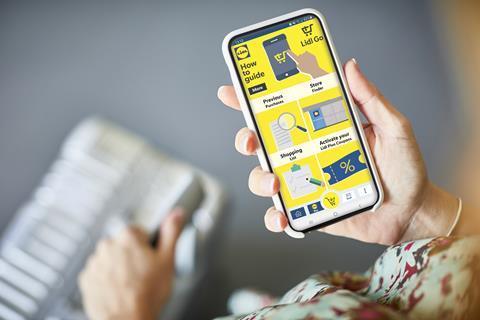 Lidl is launching a 'scan as you shop' service in a pilot in a store in Fulwell, south west London.
It will let customers scan products themselves using their smartphones as they shop. They then scan a barcode generated on the device at checkout before paying, doing away with the need for products to be scanned at the till.
A number of other supermarkets let customers bypass the usual checkout process by scanning products with their phone, but this is thought to be the first such move by a discounter.
An 'early access' version of the smartphone app needed, called 'Lidl Go', is available from app stores including Google Play. Once registered with an account – which could be their existing Lidl Plus loyalty app account – customers can "Simply scan the items as you shop", a user guide in the Lidl Go app says.
The discounter filed a trademark application for 'Lidl Go' on 23 July, applicable to "self-scanning systems for customers".
A terms & conditions page for the app has also been added to the Lidl UK website. "The app allows users to 'self-scan' items while shopping in selected Lidl stores and then to pay for them at the checkout using the barcode generated by the app," it says.
It lists Fulwell as the only branch where the app can so far be used but appears to suggest wider ambition for the technology, through multiple references to participating "stores".
As a precaution against theft, staff are "entitled to carry out regular checks on users at random intervals and to themselves scan individual or all items intended… to verify whether they were scanned correctly".
Along with the rest of their shopping, customers can use the app for fruit & veg sold by weight, by scanning the barcode printed at a weighing station, the terms & conditions say.
A Lidl spokesman said it was too early to provide any further details on the pilot.
Aldi may be planning a similar move, having recently registered the trademark 'Shop & Go'.
It stands to bring the discounters closer in streamlining the shopping experience to supermarkets such as Tesco and Sainsbury's, which already let customers scan as they shop in hundreds of stores.
The technology has become increasingly useful to retailers in the pandemic as a way to keep queues outside short by reducing the time customers must spend inside.
Sainsbury's began rolling out its SmartShop system from 250 to "most" of its 770 Local branches in October 2020. Meanwhile, Asda has Scan & Go available in all 581 stores, after 200 went live in lockdown last year.
More than 310 M&S Food Halls have its Mobile Pay Go and Tesco has Scan as You Shop in over 573 large-format branches.