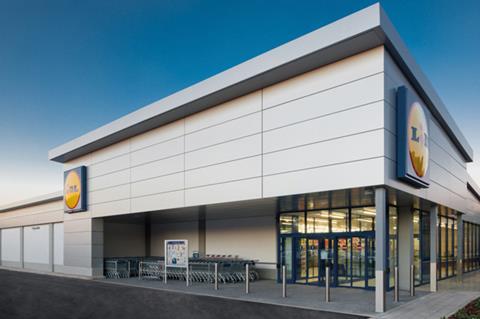 Lidl has pledged 'healthy or healthier' products will make up 85% of its sales by weight by 2025, up from 80%.
The discounter is to use a bespoke nutrient profiling system developed by its nutrition teams to monitor progress, which it will report on annually.
Lidl said the bespoke model was based on PHE's traffic light front-of-pack labelling criteria, which ranks products as healthy, healthier or least healthy according to their fat, sugar and salt content. Lidl's model puts the proportion of its sales classed as healthy and healthier in 2019/20 at 80%.
In working towards the 85% target, which is based on tonnage volume, Lidl is to assess over 200 lines each year on how they can be improved.
The process will see Lidl engaging with suppliers to boost its portfolio of healthy products, it said.
It has also set a target of increasing its sales of fresh fruit & veg by 35% by 2026.
The pledges come a day ahead of the government-commissioned National Food Strategy report, in which Henry Dimbleby is expected to recommend radical reform of the UK food industry.
"Our healthy eating pledge is our most ambitious healthy eating target yet and is focused on helping families make healthier choices when they shop with us," said Lidl GB CEO Christian Härtnagel.
Lidl said it would also add 100 new fresh products in stores by September this year. It said it was investing in larger energy-efficient chillers for the rollout and would position healthy products like fresh meat and fruit & veg prominently at the front of stores.
Rebecca Tobi, project manager at campaign group the Food Foundation, said: "Ahead of the National Food Strategy's release later this week it's fantastic to see Lidl making such strong commitments to increasing sales of healthier foods, particularly an ambitious 35% increase in sales of fruit and veg."
Last week, The Grocer revealed Lidl was analysing the results of a three-week trial encouraging shoppers to swap product choices for healthier alternatives using shelf-edge signage.