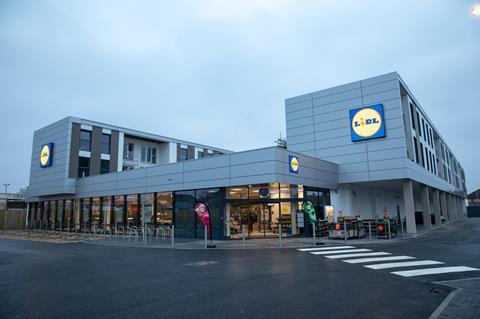 Lidl has announced its wish list of new store locations across the UK and is appealing for landlords with suitable properties to come forward.
The discounter has published its latest annual brochure of property requirements, on the same day it opened its 860th UK store.
The brochure lists Lidl's targeted locations the length and breadth of the country, broken down by region.
Areas "of particular focus this year" include "town centre, edge of centre, retail park and metropolitan locations", said a spokeswoman.
Lidl has opened 20 stores so far in 2021, a number set to rise to 50 by the end of the year, putting it on course to hit its long-term target of 1,000 by 2023, according to the spokeswoman.
The supermarket publishes a new brochure of property requirements for landlords and agents every year but does not usually announce it to the media. It is thought that by better publicising it, Lidl hopes to avoid consumer confusion between planned new stores and targeted areas, which can arise at intervals throughout the year as local news outlets come across the brochure and report on the plans in their region.
"We are calling on developers and landlords up and down the country to help find potential sites for us to build Lidl stores, which demonstrates the continued ambition we have to further expand our store portfolio across the nation," said Lidl GB CEO Christian Härtnagel.
"We are looking forward to opening more stores throughout the country and welcoming new colleagues in the coming months and years, so that more communities can access high-quality food at the lowest prices on the market."
Lidl has committed to an investment of £1.3bn in UK expansion throughout 2021 and 2022.
The 50 new stores this year are set to create 2,000 new jobs, the spokeswoman said.
Rival discounter Aldi also has an ambitious long-term expansion target, of 1,200 stores by 2025. It opened its 900th in October last year.
However, Aldi missed its annual target of 50 new stores in 2020, instead reaching 37, thanks to disruption and construction delays under national lockdown.
Aldi is currently on the hunt for three stores on the Isle of Wight, where it currently has two.
"We have been investing in Britain for more than 30 years now, but we know that there are still areas that either do not have an Aldi at all, or that need another store to meet customer demand," said Aldi UK national property director Ciaran Aldridge.
"Shoppers are increasingly looking to get unbeatable prices on their weekly shop without compromising on quality. That's why, more so than ever, we're keen to explore all opportunities to open new stores across the country."