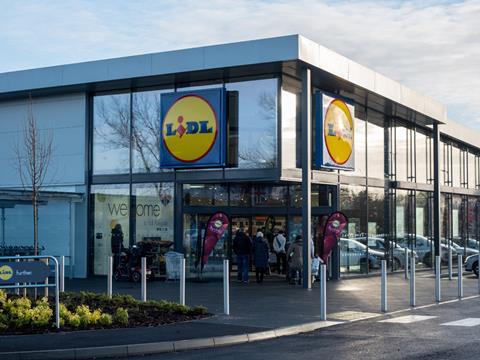 Lidl GB has reported a £13.6m loss in its first-ever full-year separate accounts for discounter's GB operation.
The loss after tax came as Lidl GB invested £654m in growing the business in 2019-2020, the newly filed full-year accounts reveal.
The results are the first to be published following a group reorganisation to consolidate Lidl's UK registered entities. It saw assets of the British branch of Lidl UK GmbH and all shares in Lidl UK Assets GmbH transferred to Lidl Great Britain Ltd.
It means Lidl Great Britain Ltd's latest results are non-comparable with the previous year's, when the company dealt mainly with payroll operations, according to Lidl GB CEO Christian Härtnagel.
As of next year, the new structure would provide year-on-year comparative results for the GB business for the first time, Härtnagel said.
"For the first time we ever we are showing our accounts in this level of transparency," he said.
As part of the international reorganisation, "We looked at what that means for the UK and came to the conclusion it was an opportunity to streamline it and clean it up and make it what a discounter should do, so Lidl UK GMBH, Lidl UK Assets GMBH, all of this is now consolidated into Lidl GB Ltd," he added.
The businesses opened 51 stores in the period, bringing the UK total to over 800, along with its largest distribution centre to date in Motherwell, to serve Scottish stores.
Revenue for the year was £6.9bn as British households switched a claimed £392m of spend to Lidl from other supermarkets.
In the current financial year, Lidl remained on track to have opened over 50 new stores and hired 8,000 colleagues, the accounts said.
The report said the performance showed Lidl's decision to stay offline was sustainable. "Whilst the company does not engage in online retailing of groceries and does not operate a delivery service, the business has not been affected adversely by this decision," it said.
"The market share has increased from 5.8% to 6.1% during the financial year. This shows that the company was able to increase market share in the period despite not having an online presence and a clear indication that the business model is sustainable."
Härtnagel told The Grocer that even after last year's growth online was "still only 13%-14% [of the market] and I disagree with experts who say this is the new normal. I don't think we're anywhere near to a new normal. This is what I call a temporary normal.
"Pubs and restaurants and cafés are going to reopen and as much as I would like to go to a pub and a café, I know a lot of people would like to go back to a supermarket to buy their fresh produce and not buy on an online platform.
"We're not naive. I don't think it's going to go back to 7.5%. But let's meet somewhere in the middle, let's say 9%-10%. It is absolutely fine for a discount retailer to only operate and focus on the 90% of the market that is left."
Lidl's latest Christmas trading update reported a 17.9% overall sales increase in the four weeks to 27 December compared to Christmas 2019. Aldi – which launched both Deliveroo and click & collect trials last year – reported a 10.6% year-on-year rise in sales in the four weeks to 24 December 2020.
Härtnagel said remaining "purely focused" on bricks & mortar with "zero distractions" may have been a contributing factor to Lidl outperforming rivals at Christmas.
But he added: "We need to be honest here, obviously we had a big voucher campaign in December. If you're quoting the December figure that is surely part of that success."
He said the £10 off a £40 basket offer in a national newspaper campaign was "the biggest voucher campaign we've ever done" and "obviously hugely expensive".