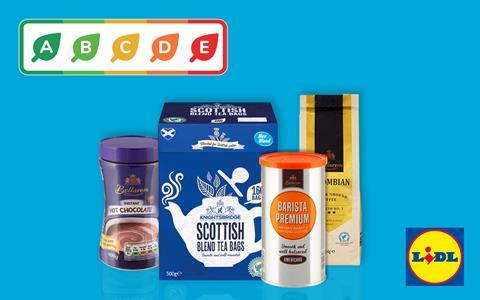 Lidl is to roll out traffic light labelling to show the sustainability credentials of its own-label products.
The discounter's own 'Eco-Score' system will be applied to 50 Lidl products in 105 Scottish stores this October.
Lidl said its Eco-Score used open-source data to independently grade products on their sustainability credentials and assigned a colour code ranging from green 'A' (low impact) to red 'E' (high impact). To grade a product, various factors are assesed, including production methods, impact on biodiversity, packaging and carbon footprint. Products receive better scores where they are certified by third party schemes such as Fairtrade and Rainforest Alliance.
Among the 50 products are Lidl teas, coffees and hot chocolate, and the discounter said it planned to use the scheme to promote its commitment to sourcing 100% of its key raw materials from certified sustainable sources.
Amali Bunter, head of responsible sourcing and ethical trade at Lidl, said the rollout was a "huge milestone" for the company.
"We know that shoppers want more support in understanding the environmental impact of the products they buy day-to-day and Eco-Score will do just that," Bunter said. "The trial will help customers road test the new traffic light system and ultimately make greener shopping choices in the process."
Over the course of the trial, Lidl will take feedback from customers before deciding how to progress with the scheme. The discounter said it would "share the findings from this pilot to help shape an approach that works for customers and the industry in the long term".
Lidl's Eco-Score is separate to a similar traffic light sustainability system from independent, non-profit organisation Foundation Earth, based on a system developed by environmental consultancy Mondra and being piloted in the UK this autumn.
Finnebrogue Artisan-owned bacon brand Naked, as well as Meatless Farm, Greencore, Mash Direct and the Good Little Company will put the score on their products from September.
Foundation Earth – the brainchild of food entrepreneur Denis Lynn, who died in a quad bike accident in May – has the backing of a slew of retailers and food and drink brands. Representatives from Lidl, discounter rival Aldi, Tesco, Morrisons, PepsiCo, M&S, Sainsbury's, the Co-op, Veetee Rice, Nestlé, Waitrose, Danone and Tyson Foods sit on its advisory group.
In June, Carrefour claimed to be the first retailer to display an eco-score – designed by a group of independent players including Yuka, Open Food Facts, Eco2 initiative and publicly accessible – across all its own-label products on its e-commerce site. The supermarket said it hoped other brands "will join this movement by also displaying the Eco-Score on their products".