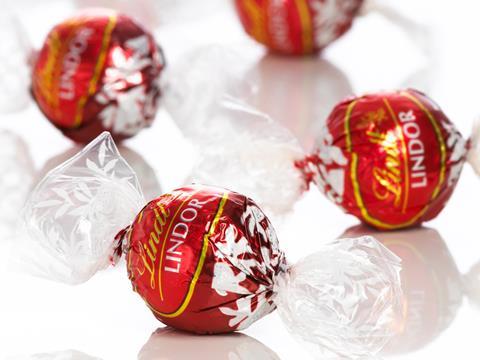 A strong performance in the UK helped Lindt offset declines across the world as the coronavirus pandemic disrupted several areas of the Swiss confectionery giant's business.
Organic revenues sank by 6.1% to CHF 4.1bn (£3.2bn) in 2020 as the group's global network of shops were forced to close temporarily and saw lower footfall when allowed to open, with the important trading periods of Easter and Christmas also suffering.
The foodservice business in North America also took a hit, as did the group's travel retail division and sales in countries more reliant on tourism, such as Italy and Austria.
EBITDA for the year fell 24% to CHF 696.1m (£545.7m) ant net income plunged 37.5% to CHF 320.1m (£250.9m) as a result.
However, Lindt called the 2020 performance "solid" thanks to market share gains in many countries and higher consumer demand for chocolate in supermarkets.
Declines in Europe for the year were more modest at -2.9%, with the UK growing organic sales by 2.1% to £215m thanks to strong trading in the mults, despite the Easter disruption.
Demand in the UK was particularly high for the brand's chocolate bars, with the launch of several new products in the Excellence range. Lindt also launched a salted caramel edition of its Lindor range and expanded the pick & mix offering permanently into more than 100 Sainsbury's stores.
Online sales at the new UK Lindt e-shop also tripled, with the business also benefitting from the boom in supermarket home delivery. Digital revenues now account for about 5% of total group revenues after doubling in 2020.
Lindt also achieved positive growth in Germany and Spain, with double-digit jumps in Eastern Europe and Scandinavia.
The North America region declined by -6.8% and sales in the rest of the world slumped 16.1%.
"Despite major global challenges due to the Covid-19 pandemic, Lindt & Sprüngli achieved a solid result in the financial year 2020, once again outperforming the overall chocolate market and gaining market shares in nearly all countries", the group said today.
Lindt added it was "convinced" it would "master the current economic downturn and emerge even stronger from this global crisis".
"A solid foundation – built on a strong business model, stable finances and high liquidity, improved efficiency in many areas, and great employee commitment – puts Lindt & Sprüngli in an excellent position for the future," the group said.
"By continuing to invest heavily in advertising and product innovation, and consistently focusing on consumers, the basis for gaining further market shares is laid. What is more, the company is convinced that the positive growth of the chocolate market – especially the premium segment – will continue in the future."
Lindt expects organic sales growth of 6-8% in 2021 as economies rebound when society reopens.