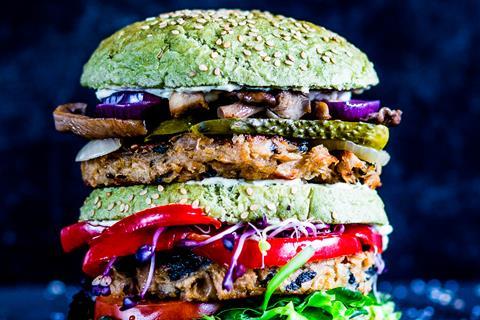 Plant-based consolidator LiveKindly Collective has continued its recent acquisition drive with the purchase of The Dutch Weed Burger, an Amsterdam-based brand that uses seaweed as its main ingredient.
Livekindly said the purchase would help the brand scale internationally in the UK and Nordics as well as in the US and Canadian markets, and eventually into Asia.
Seaweed was a "high-quality source of protein cultivated using minimal fresh water and no agricultural land", Livekindly said.
"Innovation in plant-based protein has created a tremendous opportunity to transform the global food system, as consumers increasingly demand tasty and nutritious alternatives to meat," said Kees Kruythoff, CEO and chairman of Livekindly Collective.
"With the addition of The Dutch Weed Burger, we expand the types of plant-based protein we can offer our consumers in more than 40 countries and accelerate our mission to make plant-based living the new norm."
The acquisition follows Livekindly's purchase of Iceland's frozen No Meat brand in January, and a subsequent tie-up with the retailer to double its plant-based offering in April. Livekindly has acquired a raft of vegan brands since launching at the start of 2020, including the likes of Oumph and the Fry Family Food Co.
The collective has attracted some $535m in funding over the past 12 months as part of a bid to become the world's largest plant-based company.
"We are excited to join these driven, experienced and passionate leaders who are going to help scale our brand and change the food culture around the globe," said Mark Kulsdom, CEO and founder of The Dutch Weed Burger.
"Seaweed farming is highly sustainable because it grows profusely in the ocean and it breathes out oxygen while it grows. The plant is nutrient-rich and healthy while bringing a unique umami flavour to people's tastebuds. These ocean greens mix perfectly with protein-rich beans and other innovative textures we use. I am looking forward to working within the collective, because the time for real change is imminent and more urgent than ever."