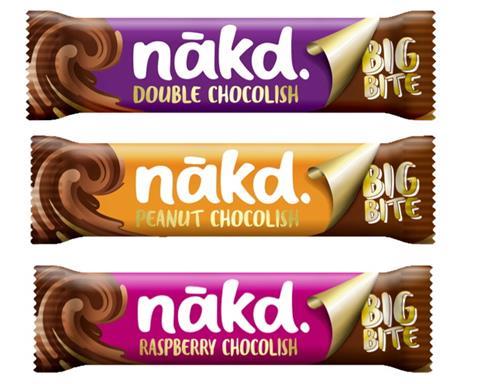 Nakd and Bear owner Lotus Bakeries is to set up a dedicated international hub for its UK brands make a concerted push to grow their global distribution.
Lotus, which last year took full control over the entire Natural Foods portfolio, including the Bear, Nakd, TREK and Kiddylicious brands, is creating a new 30-strong Natural Foods international headquarters in Switzerland working across all of its constituent brands.
Lotus' UK assets will remain based in the UK and will continue to have separate P&L's under Natural Balance Foods, Urban Fresh Foods and Kiddylicious.
The group said that while these brands initially focused on their home market – with UK sales typically accounting for 90%-95% when acquired – internationalisation beyond the UK is a key strategic growth area.
Having a unified international team across the brands will "allow multiple synergies to be achieved" in terms of strategy and development, the optimisation of the supply chain and sales strategies for the portfolio.
Lotus CEO Jan Boone told The Grocer: "We believe in the brands and believe that they will conquer the world. To change habits in different countries you need patience and the willingness to invest – that is what we're going to do."
He added that, despite this focus on international growth, Lotus would continue to "heavily invest" in the brands in their home market.
Releasing its full year 2020 financial results, Lotus said its UK brands had suffered during the coronavirus lockdown.
After a very strong first quarter, sales of Natural Foods brands Nakd, TREK and BEAR fell sharply as on-the-go consumption was hit by the closure of offices, schools and workplaces.
However, it said from July, the Natural Foods brands recovered significantly back to 2019 levels, supported by stronger performance outside the UK on a comparable basis.
Kiddylicious achieved good growth in 2020, due partly to internationalisation and the success in the UK of its innovations, Juicy Fruit Bars, Melty Buttons & Rice Crispy Sticks.
The Bear brand also experienced an increase in turnover in 2020, driven by strong growth in the US and a strong third quarter in the UK.
Overall, Biscoff owner Lotus posted an 8.3% rise in total turnover to €663.3m, with underlying growth of 9% accounting for fx movement.
This growth was mainly due to double-digit growth for its core Lotus Biscoff brand, with Biscoff ice cream sales accelerating and the brand growth supported by the introduction of Biscoff Sandwich Cookie and Lotus Biscoff Chocolate.
Group-wide recurrent net profit rose by more than 11% to €86.2m, or 13% of turnover, while net profit increased by 9% to €82.6m.