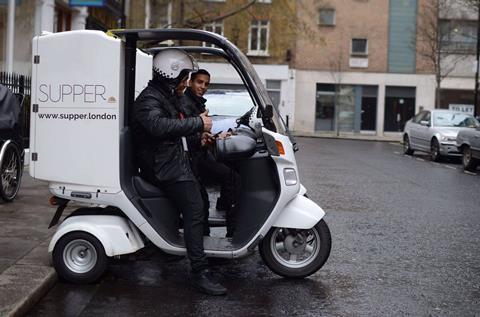 London luxury restaurant meal delivery service Supper has opened a logistics and training centre in Battersea, to accommodate its growing operations team and provide a social space for its more than 100 fully-employed drivers.
The site features showers, a communal kitchen and a common room with entertainment facilities, as the company moves to position itself as a "leading delivery sector employer".
In the centre's training room, small group sessions will "enhance drivers' skills on an ongoing basis". This is in addition to Supper London's 'buddy' system, which sees experienced drivers welcome and mentor new team members. The move "demonstrates the level of care Supper London affords to its driving team", the company said.
The company says it has "eschewed the gig economy approach in favour of fully integrating their drivers into the wider team" and provides drivers with pensions, paid holiday and a guaranteed salary, "contrasting to the rife job insecurity" within the gig economy.
Supper – which has fully employed all drivers since launching in 2015 – also offers "meaningful career progression". Drivers are encouraged to become team leaders and some have moved into head office roles.
Supper revenues have increased by 700% since February 2020, and its overall headcount grown by 400%. The company – which delivers on behalf of high-end London restaurants as well as Planet Organic, Fortnum & Mason and Harrods – is currently recruiting for further senior roles at its Camden head office and Battersea centre as a result of the rapid growth.
"Our drivers are essential to the success of our business, so for me it's been important right from day one to look after and support them with an ethical approach to employment," said CEO and founder Peter Georgiou.
The use of gig economy workers has divided the food courier market, with different brands taking different approaches. Just Eat earlier this year jettisoned the use of Stuart riders to supplement its delivery service in London and Birmingham and rolled out the direct employment model across the UK. Just Eat CEO Jitse Groen has been damning of the gig economy, saying it had "led to precarious working conditions across Europe, the worst seen in a hundred years".
Rapid grocery delivery upstarts like Getir and Weezy have also rejected the use of third-party courier partners.
The likes of Deliveroo and Uber Eats are facing an increased legal threat their riders will win the right to be classified as workers.
A May Oxford University report rated Just Eat as the best major food courier business based on how fairly it treats workers, covering pay, conditions, management and representation. Deliveroo also ranked towards the top of the table, while Uber Eats, Amazon's delivery arm Amazon Flex and Stuart scored poorly.