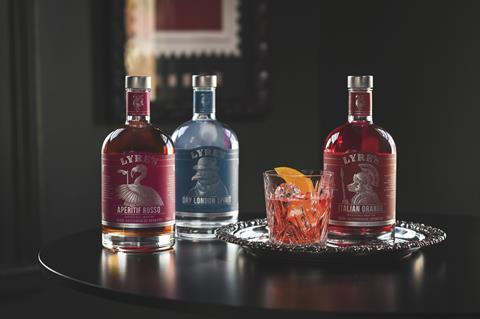 Non-alcoholic spirits start-up Lyre's has been valued at more than £100m after receiving £5m in top-up funding to continue expansion in the rapidly growing low & no alcohol category.
The business plans to use the new funds to boost its presence overseas from 43 countries currently to 60 by the end of the year, as well as investing in its manufacturing capabilities in the UK, Europe and the US, and helping to prepare for the reopening of the global hospitality sector as restrictions ease.
The 'seed-plus' fundraising comes ahead of a major funding round planned for later in the year and follows a £9m investment in the business in September last year. It takes the total raised by Lyre's to more than £15m over three rounds since it began trading in 2019.
Lyre's is on track to deliver annualised sales of more than £35m by the fourth quarter of 2021 on the back of double-digit monthly revenue growth, with direct-to-consumer sales currently accounting for almost half the business.
It comes as consumers continue to flock to the low & no alcohol, with grocery sales in the category up 51% to £217.1m in the past year, according to The Grocer's latest report on the sector [Kantar 52 w/e 21 February 2021].
Lyre's CEO and co-founder Mark Livings said: "It's truly exciting to travel through the £100m valuation milestone within two years of trading.
"The demand for non-alcoholic drinks and growth in mindful drinking is exploding."
He added millennials were drinking 20% less than their parents at the same age, and consumers were also making healthier choices.
"Lyre's has built a brand in the most challenging of market conditions and as we position the business at the threshold of the hospitality resurgence, our goal is to be ubiquitous in all major markets so that anyone, anywhere can say: 'make my drink a Lyre's'," he added.
Lyre's portfolio of 13 non-alcoholic spirits has recently been expanded to include three ready-to-drink variants, which have launched in the US, Asia and Oceania, with UK and Europe launches to follow.
Lead institutional investors introduced in the latest funding round include US-based Morgan Creek Capital Management and Bitburger Ventures, joining existing investors DLF Venture, VRD Ventures, SFO GmbH, Maropost Ventures and Döhler Ventures.
Mark Yusko, CEO and founder of Morgan Creek Capital, said the firm had been targeting a non-alcoholic spirits company for its portfolio of investments.
"With a large product range of non-alcoholic spirits and RTD beverages, we believe Lyre's is well-positioned to capture the tremendous growth in global demand in this category," he added.