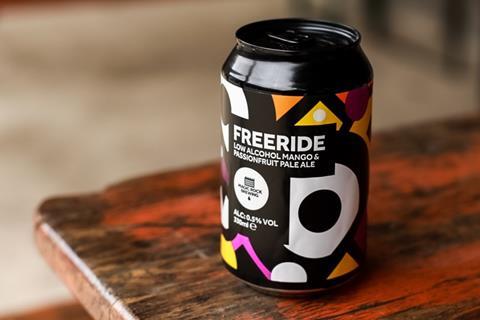 Lion-owned craft brewery Magic Rock is making its debut in low and non-alcoholic drinks.
It has unveiled Freeride, a 0.5% mango and passionfruit pale ale, which is billed as offering "the bite of a huge IPA but a fraction of the alcohol".
It had "a distinctive tropical twist that is complemented by a fresh and fruity aroma", said the brand, and is vegan.
"When creating products for the no and low alcohol category, it is common practice amongst brewers to add lactose, a milk-derived sugar that gives the beer more body and a thicker mouthfeel," said Magic Rock.
"However, Magic Rock prides itself on satisfying those with dietary requirements, which is why its entire core range is registered with The Vegan Society and contains several gluten-free options."
It has rolled out into Magic Rock's webshop in 330ml cans (rsp: £2).
It comes as earlier this month the brand's owner Lion Little World Beverages sparked controversy in the beer trade with the announcement of a plan to give free beer to pubs in exchange for listings.
Launching what it called its 'cashflow scheme', it is set to offer pubs and bars up to 12 kegs of beer on the condition they then sign a year-long contract.
However voices in the trade lambasted the scheme, arguing it could cut off routes to market for already-ailing smaller suppliers and independents.
Willam Reed – the publisher of The Grocer – has launched an exhibition exclusively for the low and non-alcoholic drinks sector. For more information visit low2nobev.com